I went to Chicago last weekend and returned with a rave in my pocket: TimeLine Theatre Company's production of The History Boys is a not-to-be-missed event. It's reviewed in today's Wall Street Journal drama column, along with Propeller's all-male staging of The Merchant of Venice in Brooklyn. Here's an excerpt.
* * *
It's rare for me to have such sharply mixed feelings about a play as I had about Alan Bennett's "The History Boys" when I first saw it on Broadway in 2006–so mixed, in fact, that I came away not knowing whether I really liked what I'd seen, impressed though I was by Nicholas Hytner's direction and the performances of Richard Griffiths and the ensemble cast. Ever since then I've been wanting to see "The History Boys" done by an American company (Mr. Hytner's film version was made with the same all-British cast that I saw in New York). Would Mr. Bennett's knowing tale of a class of self-consciously bright schoolboys and the teacher who loves them too well seem less slick the second time around?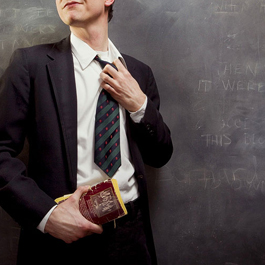 The answer has come with the Chicago premiere of "The History Boys," which is currently being performed by TimeLine Theatre Company, a highly regarded Windy City troupe that specializes in–logically enough–history plays. To say that TimeLine makes "The History Boys" work is to understate the case by a mile-wide margin. Nick Bowling's staging is actually more effective in certain key ways than the original National Theatre production, and to my mind more moving as well. While I still have a few lingering doubts about "The History Boys," I have none whatsoever about TimeLine's production, which is one of the smartest shows I've seen all season long….
No small part of the potent effect of this production derives from Brian Sidney Bembridge's ingenious environmental set, which envelops the audience (you enter the theater through the boys' dorm rooms) and heightens the impression that you're in the middle of the fray. Still, it's Mr. Bowling and his top-drawer cast who are mainly responsible for changing my mind about "The History Boys." While I still find Mr. Bennett's here's-what-happened-to-everybody ending to be neat to the point of outright patness, I bought into the rest of the play this time around and cared about its characters. So will you….
One of the surest pleasures of the season is the annual visit to Brooklyn's BAM Harvey Theater of Propeller, Edward Hall's all-male Shakespeare troupe. This is true even when, as in the case of "The Merchant of Venice," I question the underlying premise of the production. Mr. Hall has a weakness for rigidly schematic directorial concepts, and this "Merchant," which is set in a present-day cell block full of shivs and punks, is a case in point. I get the symbolism–it'd be hard not to–but the interpretation rests atop the play like oil on water, and the one-dimensional results seem to be less a full-fledged performance of Shakespeare's play than a clever commentary on it. On the other hand, Mr. Hall's staging crackles with testosterone-charged life…
* * *
Read the whole thing here.
To watch a scene from TimeLine Theatre Company's production of The History Boys, go here.