Today's Wall Street Journal drama column contains reviews of the Folger Theatre's revival of Arcadia in Washington, D.C., the American Shakespeare Center's revival of Rosencrantz and Guildenstern Are Dead in Staunton, Virginia, and the Kansas City Repertory Theatre's production of David Ives' new adaptation of Georges Feydeau's A Flea in Her Ear. Here's a excerpt.
* * *
Most of the half-dozen American drama companies that perform in more or less authentic replicas of Elizabethan-era theaters specialize, logically enough, in the works of Shakespeare. From time to time, though, contemporary plays are acted on these modern re-creations of 17th-century stages, and it happens that two such productions are currently being performed in the same part of the country. In Washington, the Folger Theatre is mounting Tom Stoppard's "Arcadia" on its indoor stage, while the American Shakespeare Center, located in Staunton, Va., is presenting Mr. Stoppard's "Rosencrantz and Guildenstern Are Dead" in the Blackfriars Playhouse, a copy of a 1596 London theater. It's a once-in-a-lifetime coincidence that these two shows are being performed within a three-hour drive of one another, and both are very much worth seeing.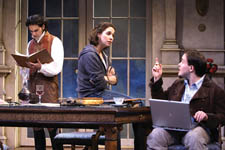 The Folger's "Arcadia," directed by Aaron Posner, is the more conventional of the two stagings: Daniel Conway's solidly built proscenium-style set treats the surrounding theater as a shell rather than making use of its specifically Elizabethan features. But Mr. Posner and his fabulous cast need no scenic assistance in order to make magic out of Mr. Stoppard's best play….
Unlike Mr. Posner's "Arcadia," which would have looked as good and played as well in a modern theater, Jim Warren's knockabout staging of "Rosencrantz and Guildenstern Are Dead," Mr. Stoppard's topsy-turvy variation on "Hamlet," is a site-specific production that makes impeccably idiomatic use of the wide-open stage of the Blackfriars Playhouse. No curtain, no sets, no spotlights–just a bunch of actors who come and go through a pair of upstage doors, speaking their soliloquies directly to the audience and moving briskly from scene to scene. The title roles are played not by two men but by a man and a woman, Rick Blunt and Ginna Hoben, who act in the broad, unselfconsciously vulgar manner of Shakespearean clowns….
David Ives, who rewrote Mark Twain's "Is He Dead?" to extensive and brilliant effect a couple of seasons ago, has done a similar service on behalf of an infinitely better play. In Mr. Ives' new version of "A Flea in Her Ear," Georges Feydeau's 1907 comedy about an impotent husband (John Scherer) whose wife (Carol Halstead) suspects him of adulterous dalliance, Feydeau's fin-de-siècle French dialogue has been modernized (and Americanized) in a way that is fully faithful to the spirit of the greatest of all French farces. My guess is that this version, which is now making the regional rounds, will become the standard English-language version of "A Flea in Her Ear," and anyone who sees the Kansas City Repertory Theatre's immaculate production, directed by Gary Griffin, will come away certain that Mr. Ives has passed another theatrical miracle.
Mr. Griffin's staging of "A Flea in Her Ear" is direct, vigorous and gimmick-free, thus allowing Feydeau's meticulously engineered plot to work itself out with near-mathematical clarity….
* * *
Read the whole thing here.