In today's Wall Street Journal drama column I report on two first-rate out-of-town shows, Giant at Arlington's Signature Theatre and Old Times at Chicago's Remy Bumppo Theatre Company. Here's an excerpt.
* * *
For some playgoers, the most noteworthy piece of information about "Giant," Michael John LaChiusa's musical version of Edna Ferber's mammoth 1952 novel, will be that it runs for three hours and 45 minutes. Even for an opera, that's on the long side, and in the knock-'em-dead world of musical comedy, it's endless. Yet Signature Theatre, which just won a well-deserved regional-theater Tony Award, has thrown caution to the winds and dared to put Mr. LaChiusa's new show on its smallish stage–with immensely impressive results. This is a long show that doesn't feel long, with a score so rich and varied that you'll relish every bar.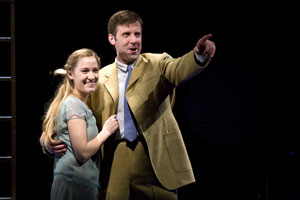 Ferber's multigenerational middlebrow epic about a family of Texas cattle ranchers is best known nowadays from George Stevens' star-studded 1956 film version. Sybille Pearson, however, has gone back to the source in writing the book for "Giant," and her three-act adaptation conveys the essence of the 416-page novel without getting bogged down in Ferber's flat-textured, tin-eared prose. The story comes through clearly, and it's a good one, an event-packed tale of a wealthy rancher (Lewis Cleale) whose young Virginia bride (Betsy Morgan), stunned by the size and strangeness of her new home, spends the rest of her life trying to come to terms with Texas.
The pull of the plot is obviously an important part of what makes "Giant" work on stage, but it's the marvelous songs that are the heart of the matter. From the spacious, unhurried lyricism of "Lost in Her Woods" to the sock-hop rock of "Jump," the score of "Giant" cuts a wide swath of stylistic terrain. Yet Mr. LaChiusa isn't just trying on idioms for size–he is at home in all the musical languages to which he turns his hand–and his plain-spoken lyrics propel the action so decisively that "Giant" seems far shorter than it is….
Time was when Harold Pinter's shorthand dialogue struck most people as impenetrably mysterious–and times, truth to tell, haven't changed all that much. Yet his best plays continue to make a powerful impression, and "Old Times," first seen on Broadway in 1971, has even become something of a regional-theater staple in recent years, partly because it can be produced so cheaply (three actors, one simple set) and partly because it's so theatrically effective. Pinter never wrote anything more potent than the enigmatic story of Deeley and Kate, an uneasily married couple whose life is disrupted by a visit from Anna, who knew Kate 20 years ago and appears (or maybe not) to have been romantically involved with her. Remy Bumppo Theatre, one of my favorite Chicago companies, is presenting this icy sparring match in an exceptionally satisfying production that has been staged with surgical skill by James Bohnen, the company's artistic director…
* * *
Read the whole thing here.