I go to a lot of out-of-town shows in between Broadway openings, but my reviewing calendar is so crowded that I inevitably miss out on some of the ones that I most wanted to see. Right now, for instance, Long Beach Playhouse is putting on John van Druten's The Voice of the Turtle, a poignant three-character comedy about love in wartime that has a small but significant place in American theatrical history. It opened in 1943 and ran for 1,557 performances, making it Broadway's eighth longest-running straight play–yet The Voice of the Turtle has never been revived on the Great White Way since the original production closed in 1948.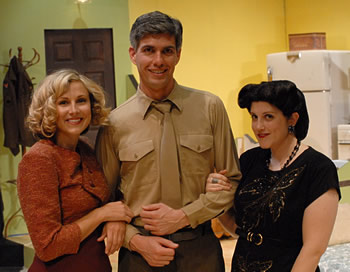 With the financial crunch hitting New York producers where it hurts, I've written a "Sightings" column about high-quality small-cast plays that either never made it to Broadway or, like The Voice of the Turtle, haven't been seen there for decades. Pick up a copy of tomorrow's Wall Street Journal and you'll find an annotated list of five such plays, all of which (A) can be produced cheaply and (B) lend themselves to the celebrity casting without which it is no longer possible to open a straight play on Broadway.
* * *
Here's a list of the ten longest-running straight plays in Broadway history:
• Howard Lindsay and Russel Crouse, Life With Father, opened 1939, 3,224 performances
• Jack Kirkland, Tobacco Road, opened 1933, 3,182 performances
• Anne Nichols, Abie's Irish Rose, opened 1922, 2,327 performances
• Ira Levin, Deathtrap, opened 1978, 1,793 performances
• Albert Innaurato, Gemini, opened 1977, 1,788 performances
• Garson Kanin, Born Yesterday, opened 1946, 1,642 performances
• Jean Kerr, Mary, Mary, opened 1961, 1,572 performances
• John van Druten, The Voice of the Turtle, opened 1943, 1,557 performances
• Neil Simon, Barefoot in the Park, opened 1963, 1,530 performances
• Neil Simon, Brighton Beach Memoirs, opened 1983, 1,530 performances.
For what it's worth, none of these plays has ever been successfully revived on Broadway. I wonder why? Maybe that's another column….
* * *
UPDATE: Read the whole thing here.
The other plays on my list, in case you're wondering, are Alan Ayckbourn's Relatively Speaking, David Ives' Ancient History, Kenneth Lonergan's This Is Our Youth, and George Bernard Shaw's Don Juan in Hell.