• Mrs. T, with whom I watch a lot of old movies on TV, pointed out the other night that I have a pronounced weakness for the sort of woman known to fans of P.G. Wodehouse as a good egg. Alas, Wodehouse never described any of his good eggs in detail, but Raymond Chandler carved the type in stone when he wrote about Anne Riordan in Farewell, My Lovely:
She was about twenty-eight years old. She had a rather narrow forehead of more height than is considered elegant. Her nose was small and inquisitive, her upper lip a shade too long and her mouth more than a shade too wide. Her eyes were gray-blue with flecks of gold in them. She had a nice smile. She looked as if she had slept well. It was a nice face, a face you get to like. Pretty, but not so pretty that you would have to wear brass knuckles every time you took it out….

You could get to like that face a lot. Glamoured up blondes were a dime a dozen, but that was a face that would wear.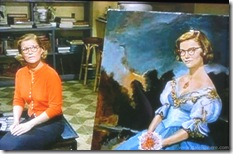 Midge, the character played by Barbara Bel Geddes in Alfred Hitchcock's Vertigo, is Hollywood's quintessential good egg: bright and funny, spunky and plucky, pretty but not sultry, impeccably trustworthy in a pinch. Needless to say, such wondrous, indispensable creatures usually receive third or fourth billing–the only one I can think of who is the indisputable star of the film in which she appears is Janeane Garofalo in The Truth About Cats & Dogs–and tend not to get the guy. Yet they rarely fail to win my heart. Eve Arden in Anatomy of a Murder, Jeff Donnell in Sweet Smell of Success, Celeste Holm in Road House, Ruth Hussey in The Philadelphia Story, Virginia Huston in Out of the Past, Nancy Olson in Sunset Boulevard, Jane Randolph in Cat People, Ann Sheridan in Kings Row, Teresa Wright in just about anything: these are my kind of women and always have been, both on the screen and in real life.
You won't be surprised, then, to learn that while a number of my best friends are exceedingly good eggs, I've never been drawn to femmes fatales, nor have I fallen victim at any time in my life to the half-mad romantic obsession that is the stuff of innumerable films and novels (though I do know all about the pain of unrequited love!). Apparently my temperament is too equable to make me susceptible to that particular form of lunacy.
This may explain why I prefer North by Northwest to Vertigo, and why I have long believed that comedy is truer to life than tragedy–but it does nothing whatsoever to explain why a person of my reasonably even-keeled temperament should have wanted to turn The Letter into an opera. Perhaps Truman Capote explained it when he said that "the writer should have considered his wit and dried his tears long, long before setting out to evoke similar reactions in the reader."
Whatever the reason, I continue to prefer good eggs to glamour pusses, and probably always will. Like Philip Marlowe says, they wear better.