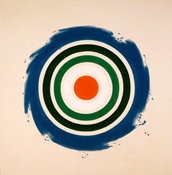 My friend Ethan Iverson, who plays piano with the Bad Plus, read my recent Wall Street Journal column on modern music, in which I mentioned in passing that "I don't go in for crunch-and-thump music, nor do I care for the over-and-over-and-over-again minimalism of John Adams and Philip Glass, which puts me to sleep." He promptly issued the following challenge on his blog:
Here's an open invitation to Terry–who, after all, is a current collaborator with modernist composer Paul Moravec: what about a list of classical music since 1950 that he finds interesting? It should be a list of music that is neither twelve-tone or minimalist, nor particularly "crunch and thump."
Here goes, straight off the top of my head. I've included links to currently available recordings of all ten pieces, which can also be downloaded from iTunes:
• Benjamin Britten, The Turn of the Screw (1954)
• Aaron Copland, Piano Fantasy (1957)
• Ned Rorem, Trio for Flute, Cello, and Piano (1959)
• Leonard Bernstein, Chichester Psalms (1965)
• Dmitri Shostakovich, String Quartet No. 11 (1966)
• Malcolm Arnold, Symphony for Brass Instruments (1978)
• George Tsontakis, String Quartet No. 3 ("Coraggio") (1986)
• Morten Lauridsen, O Magnum Mysterium (1994)
• Lowell Liebermann, Piccolo Concerto (1996)
• Paul Moravec, The Time Gallery (2000)
Each of these pieces is more or less tonal (though Britten's opera and the Copland Fantasy also make use of serial-type techniques). Beyond that, though, they don't have a lot in common other than that I happen to like them all very much. Some are immediately accessible, while others are tougher nuts to crack. I chose them to suggest the breadth of musical possibility that has been available to postwar classical composers whose language is essentially traditional.