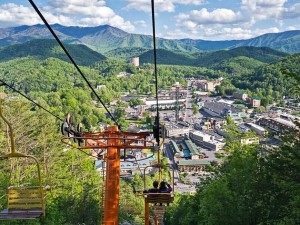 Nostalgia is incommunicable. Try as we might, we cannot share it with those who stand outside the magic circle of common memories. So I can't tell you what it really felt like for me to drive through the Great Smoky Mountains National Park on Monday morning, or to walk along the main street of Gatlinburg, the Tennessee resort town where my family spent several of its summer vacations some forty-odd years ago. Even if you'd been with me, you wouldn't have seen what I saw from the Sky Lift whose swinging yellow chairs look down on the town, or smelled what I smelled when I walked into the Ole Smoky Candy Kitchen in search of chocolate taffy logs. What I saw and smelled was, of course, myself when young, and you didn't know me then, back in the days when I was a nearsighted nine-year-old brat with close-cropped hair who wasn't any good at sports and spent all his spare time reading.
I went to the Smokies to see a show, and I had perfectly good reasons for seeing it, but I can't deny that one of the secondary reasons why I happened to choose that particular show was that it was being performed in Cherokee, the North Carolina town at the other end of the road that runs through the Smoky Mountains to Gatlinburg. It's a twisty, ear-popping trip full of hairpin turns and scenic overlooks, and I savored every mile of it–but did I see what was there, or what I remembered? I don't know for sure, since I remembered most of what I saw, or thought I did.
The only thing that took me by surprise was the suddenness with which the deep green stillness of the mountains gives way to the crowded bustle of Gatlinburg. Remember the moment in Who Framed Roger Rabbit when Bob Hoskins pops out of the tunnel that leads to Toontown? That's exactly what it felt like. All at once I was surrounded by corn dogs and miniature-golf courses and seedy motels whose neon signs say either YES or NO (the word "vacancy" is taken for granted in Gatlinburg). Some of those motels are older than I am, though most of them came along later, as did most of the stores that line the street that runs through the center of town. The Sky Lift and the Ole Smoky Candy Kitchen are the only remaining places that I'm absolutely sure I visited as a child, and they haven't changed a bit.
My brother, who brings his family to Gatlinburg every summer or two, suggested that I dine at Pancake Pantry. He knows all about food, so I took his advice, lunching on eight-inch-long pigs-in-a-blanket and ambrosially greasy-crisp hash browns that reeked of onions. "You want sweet tea with that, honey?" my waitress asked. Nobody in New York ever asks if I want sweet tea with my meal, or calls me honey. The truth is that I don't like sweet tea. In Manhattan I always ask for lime with my unsweetened iced tea, and once in a while I get it. But in Gatlinburg I knew the proper answer to the waitress' question, and unhesitatingly gave it: "Sure would, ma'am. Thank you!"
One must not tarry long in the precincts of one's youth. I paid my check, rode the Sky Lift, sent a garish picture postcard to a blogfriend in San Francisco, ordered a pound of taffy logs to be shipped to my brother, and hit the road. This time the explosion took place in reverse: no sooner did I drive into the park than the color and noise of Gatlinburg fell away from me like a now-useless second skin.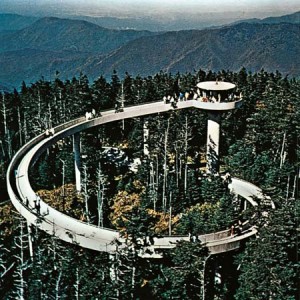 I wasn't quite done with childhood, though. I made one more stop on the way back to Cherokee, pulling off the main park road and heading up the side of Clingmans Dome, the highest peak in the Great Smokies, driving through low-lying clouds to a parking lot that is six thousand feet above sea level. At the far end of the lot is a trailhead that leads to a concrete observation tower located at the summit. The half-mile climb to the tower is steep enough, and the air thin enough, that guidebooks warn visitors with a history of heart trouble to proceed with care. That's me in spades, and perhaps I should have turned around and left, but I had something to prove, so I got out of the car and started walking–carefully. Ten minutes later a thunderstorm rolled over Clingmans Dome and soaked me to the skin. I cursed myself for not having brought an umbrella, but it never occurred to me to turn back. I was committed.
In due course I made it to the observation tower, breathing heavily but not wheezing, and joined the knot of soggy hikers huddled together under the concrete canopy.
"That was some walk, huh?" one of them said to me.
"I was ten years old the last time I did it," I replied. "It's a lot longer now!"
It was a lot shorter as I slogged back down the trail, cold, wet, exhausted, and about as happy as it's possible for a human being to be. Not bad for a fifty-one-year-old man who had to call an ambulance for himself a year and a half ago, I said to myself, and laughed out loud. "We shall never be again as we were," Henry James assured us in The Wings of the Dove. You know what? The old boy was wrong–at least for the space of a few joyous minutes in the middle of a rainy June day.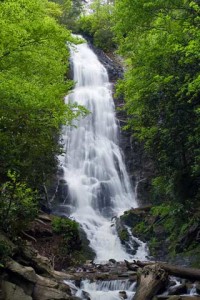 The next morning I breakfasted on chicken-fried steak and grits, checked out of my Holiday Inn, and drove to Mingo Falls, about which my brother had told me on my last visit to Smalltown, U.S.A. The trailhead is unmarked, so you have to know where you're going in order to get there, and you have to be in reasonably good shape to reach the falls, since the trail consists of a five-minute walk up a near-vertical flight of wooden stairs. It's worth it, though, because once you reach the end of the trail, you pass over a footbridge that leads to a 150-foot waterfall of the utmost splendor and complexity. I wish I could paint this, I thought as I looked upon it for the first time, knowing perfectly well that no painter, however gifted, could possibly do justice to the clamorous, ever-changing spectacle of a mountain waterfall in full flow.
In the presence of such natural beauties, most men are reduced to clichés, and the one that flashed through my mind as I gazed at Mingo Falls was no less true for being obvious: I may never pass this way again. I don't know when I'll return to the Smokies, if ever, and should I be lucky enough to do so, it may be that the climb to the falls will have become more than my aging body can safely manage. So it was with great reluctance that I finally started back down the trail, knowing that I'd seen something I'd never forget and grateful that I'd taken the time and trouble to see it.
From there it was downhill all the way–in more ways than one. I spent the better part of Tuesday afternoon sitting on a runway in Charlotte, sipping lukewarm water and doing my best not to let the vagaries of postmodern air travel gnaw too deeply into the remembered pleasures of the past few days. It wasn't very hard, for I had nowhere to go but home, no one to see, no connections to make, no special reason to be doing anything in particular. Unable to rush back to my everyday life (which I dearly love), I sat back in my seat, closed my eyes, and let myself spend a few more minutes eavesdropping on the whispers of friendly ghosts.