In a recent book and several articles (Huffington Post, Strategy+Business, Forbes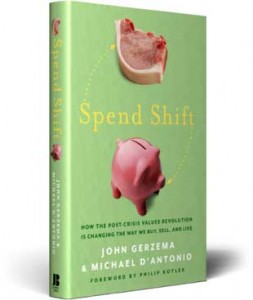 , others – just Google "Spend Shift"), John Gerzema and Michael D'Antonio describe a new breed of consumers they've named "Spend Shifts."   The co-authors say that the Spend Shift movement began before the Great Recession and consists of a large, diverse demographic group who "realize that how they spend money is a form of power, and are moving from mindless consumption to mindful consumption, increasingly taking care to purchase goods and services from sellers that meet their standards and reflect their values."  The underlying impulse for Spend Shifters is a return to traditional values in terms of what it means to live a good life; a good life is not defined by one's possessions but is instead focused on "community, connection, quality, and creativity."  The consumer survey data that Gerzema and D'Antonio analyzed — including more than 100,000 interviews —  showed that consumers "want positive relationships with marketplace vendors" and that the brand attributes most ascendant in consumers' minds include "kindness and empathy" – up a  whopping 391 percent between 2005 and 2009. ("Friendly," "high quality," and "socially responsible" also are up significantly.)
If consumers really have shifted to focus on community, connection, quality, and creativity, then our work in the cultural sector ought to be growing in appeal.   Plus, the ways that cultural organizations are themselves focusing on accessibility, community involvement, and customer service seems to parallel the trends Gerzema and D'Antonio describe.
Here's what Gerzema and D'Antonio say that the Spend Shifts want.
First, they have "a sense of optimism and purpose."  They are living with less and feeling greater satisfaction as a result, "Seventy-eight percent of those surveyed reported they are happier with a more back-to-basics lifestyle."  Second, they are thrifty and they want to be more self-sufficient. Eighty-four percent agreed that, "These days I feel more in control when I do things myself instead of relying on others to do them for me."  Third, they demand transparency.  "Companies serving these customers, who know more and expect more, will need to continuously listen, respond, and innovate." And finally, consumers want "companies who care. The emphasis is on being more human and humane in transactions with others, and people will set these same standards for the businesses with which they deal."
Gerzema and D'Antonio tell us that "executives … who understand this ethos and find ways to contribute to it will be embraced, no matter their … product. Those who fail to grasp it will find themselves either irrelevant or out of a job."
Are you a Spend Shift?  Is your organization responsive to these desires on the part of the new consumer? How do you see these consumer trends showing up in your work?