main: February 2009 Archives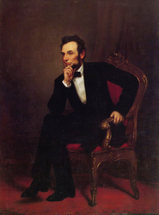 If you are still checking into Serious Popcorn, you deserve better than you've been getting. I am toiling to revise a book manuscript and have been neglecting this space more than is right, because I value it and the readers who come to it. Apologies. I should be able to post more regularly from now on. In the meantime, here is an essay on how Abraham Lincoln has been depicted in films:
"Unfinished Business"
Nancy Hanks Lincoln, the "angel mother" of Abraham Lincoln, died of milk sickness when her son was nine. But she has many proud descendants, including actor Tom Hanks, who co-produced the recent HBO series, John Adams. (See my "A Monument to Adams," CRB, Summer 2008). Hanks has spoken of a comparable effort for his illustrious ancestor, but that doesn't seem to be happening this bicentennial year.