The 4:3 television screen ratio came to represent present tense — the "narrow slit of 'now'," to use Bill Viola's term. With the increasing preponderance of widescreen 16:9 ratio, those of us who spent thousands of formative hours with the cathode-ray norm find that video suddenly got more narrative. With the new proportions, since the information in view is just a little too much (too wide) to see in a glance, my entire sense of the medium and its relationship to time is "recentered." It takes me a moment to scan the whole thing, the image continues changing, and so, there's a "story."
Would Mandarin speakers prefer a vertical box? 9:16? Terry Gilliam's Brazil notably substituted up and down movements for the side to side conventions of movie making and editing. (Films have been wide for a long time.) The habits of our written native language (for me, reading left to right) probably affects strongly the way we make sense of our perceptions.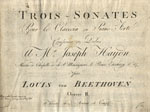 Eighteenth-century keyboard music was printed oblong. The staves were laid out wide — "landscape" in the terms of the computer printer. Most organ music still looks like that. Right around 1800, music for the still-quite-new piano started to be printed with paper turned up-and-down. (Upright pianos?)
So the new widescreen YouTube format makes me wonder: Did the grown-up readers of Beethoven's newest piano sonatas perceive the passage of time differently once printed music started appearing taller than it was wide?