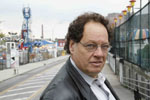 I'm a Chicago-born and New York-based writer, editor, author, arts producer for National Public Radio — for more than 30 years, a freelance arts journalist
working on newspapers, magazines and websites, appearing on tv and radio, teaching at New York University and elsewhere. I'm president of the Jazz Journalists Association.
I've written Miles, Ornette, Cecil:Jazz Beyond Jazz, due from
Routledge in November, and Future Jazz (Oxford University Press, 1999), besides hundreds of articles, profiles, reviews, interviews for Down Beat, the Village Voice, Billboard, the Washington Post, Ear, RhythmMusic, The Wire (London), Swing Journal (Tokyo), Jazz Rytmit (Helsinki), Bravo! (Rio de Janiero), and lots of record liner notes. I was senior editor of The
Billboard Illustrated Encyclopedia of Jazz and Blues. I created the new blues curriculum for the Thelonious Monk Institute's Jazz in America website.
Mostly In pursuit of music, I've traveled to England, Finland, the former Soviet Union, Cuba, West Africa and throughout the U.S. and Canada. I lectured under auspices of the U.S. State Department in Armenia and Kiev during the second annual Jazz Appreciation Month in April 2002, have moderated panels on musical topics in New York, Newport, Chicago, Detroit, San Francisco and Portland, Oregon, presented papers at the Leeds School of Music Jazz Happening and next September will do so at the Guelph Jazz Colloquium.
I produce the annual Jazz Journalists Association Jazz Awards – a megillah in itself.
Urban rhythm 'n' blues – doo-wop hits, Muddy Waters and Howlin' Wolf, Otis Redding, Aretha and Motown — as well as Broadway musicals, Miles Davis, '60s rock, and avant-gardists of the ad-hoc but highly effective Association for the Advancement of Creative Musicians (discovered via Chicago's the Jazz Record Mart/Delmark Records) inspired my interests in music. I was a long haired smartaleck out of Syracuse University working as a copy clerk on the city desk of the Chicago Daily News, enthralled with Laurel and Hardy and the Marx Brothers, French and Hollywood movies, modernist and experimental fiction, when enlisted as a third-string music reviewer in 1973. Blues doyenne Mama Stella Yancey, reggae singer Toots Hibbert and saxophonist Grover "Mr. Magic" Washington Jr., were among my first interviews; filing overnight reviews of national and local acts playing Chicago-area venues, I reported on the Fania Allstars, Betty Carter, John McLaughlin's Shakti, Minnie Ripperton, Anthony Braxton, Cecil Taylor with Mikail Baryshnikov, Public Image Ltd., Peter Frampton, Pink Floyd, Earth Wind and Fire and Junior Wells, among many others. I also reviewed movies and books, produced "Jazz Chicago" radio shows for WBEZ-FM and the Jazz Institute of Chicago, and wrote for the Chicago Reader.
The Daily News, that renowned afternoon paper, closed in 1978, and I became associate editor of Down Beat (I remain a senior contributor). Since then I've worked for Billboard, Guitar World, the Village Voice, Music & Sound Output, Ear, RhythmMusic, Jazziz, and Tower Pulse!, . Radio-wise, I've produced the NPR-syndicated radio series "Improvisers Unlimited" and dozens of NPR Morning Edition arts pieces. I've consulted with the New School Jazz and Contemporary Music program, the Thelonious Monk Institute, the International Association for Jazz Education, among other academic institutions, and with leaders of the coalition of arts journalists organizations that staged the first National Critics Conference in Los Angeles in May 2005.
I'm a recent refugee of Manhattan's East Village, now residing in largely undiscovered Kensington (Brooklyn), while maintaining an office in Greenwich Village. Many projects are in the works as I prepare for publication of Miles, Ornette, Cecil – Jazz Beyond Jazz; details and changes will be noted on this blog.
Jazz Week Profile