Two hundred and thirty dvds of concerts and 96 interviews from the International Jazzfestival Bern (Switzerland), 1983 to 2002, 20 yearbooks plus a 344-page large format graphics-rich volume, in a cabinet on wheels standing almost 4 feet tall, 3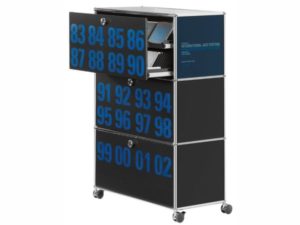 feet wide, 15 inches deep. Released as a one-time-only edition with a promise of no reissues and the dvds (in PAL format, playable on my Mac) constituting a single unit never to be split up. Cost: $8,400 USD. The Jazz & Blues Art Box is a phenomenon unto itself, the ultimate gift for the connoisseur and/or an instant collection of stellar performances and oral histories for a school or library.
There's nothing else like it I know of. In some ways it's comparable to Audubon's original Birds of America, known as "the Double Elephant Folio" for comprising approximately 40″ x 30″ plates depicting their subjects in life-size, but those 435 plates (87 sets of five published by 1838, costing $870 in the day's currency) would have been easier to get an overview of in a single sitting. The Jazz & Art Art Box would take something like 400 hours — more than 10 work weeks — to sit through just once, start to finish.
Based on the one dvd I've sampled —  a Max Roach quartet gig from 1980 (like the band below, but with Tyrone Brown on bass rather than Calvin Hill) which I was given at the New York City introduction last month of the J&BAB, a reception at the New School at which Wynton Marsalis (who has played the Fest, with at least three sets in the
box), jazz fest producer George Wein, Box annotator Hank O'Neal and executive producer Hans Zurbrügg presided onstage, talking between screened excerpts — the quality of sound, multi-camera videos and interviews is impressive. (Here's the promotional video with a couple brief samples that explains how the whole project came together). The musicians being grilled, from what I've seen, aren't asked dumb questions; as they're being treated well, they come up with fresh answers. The big book is handsomely laid out and its text seems substantive, too. The J&BAB is a beautiful thing.
Zurbrügg, its prime mover, is a Swiss entrepreneur and amateur trumpeter who founded the Jazzfestival Bern (IJFB) in 1976, still owns and produces it. His artistic focus has been definitively mainstream, including modernists but few who go very far out. As a result, the dvds spotlight many veterans from the swing-to-bop era such as Benny Carter, Jay McShann, Stéphane Grappelli, Dorothy Donegan and Freddy Green, along with post-WWII leaders such as Buddy de Franco, Betty Carter, Freddie Hubbard, Bobby Hutcherson, Chick Corea, Art Blakey, Dizzy Gillespie and so forth. There are blues acts — B.B. King, Linda Hopkins, Carrie Smith, Fats Domino, Sammy Price — and Latin jazz figures (Eddie Palmieri, Paquito d'Rivera, Mario Rivera).
Caveat: I have not delved deeply into this material. The J&BAB is not being provided to critics for review, perhaps due to the mailing costs (joke). Nevermind: While it would clearly be a luxury to live with one of these cabinets, available for dipping into whenever the mood struck, considering how much there is in it the J&BAB really ought to be accessible not to individuals, rather to communities. Generations of users will ultimately judge the collection's value.
But individuals can't begin to evaluate unless one is at hand. I'm told no Box has yet been purchased for delivery in, say, Chicago. Will an upper level jazz program here (at Northwestern University, U of Chicago, University of Illinois-Chicago, DePaul U, Roosevelt U, Columbia College), the Harold Washington Library or perhaps the independent Newberry Research Library step up to the opportunity? It may depend on what else $8400 can buy. However: Pro-rate the price tag over a couple decades, consider the number of folks who might access it (simultaneously!) and the objet petit becomes reasonably obtainable. We know jazz and blues as arts can't be contained, yet the Jazz & Blues Art Box is a treasure chest that will grow more valuable with age. To procure one? Now's the time.
howardmandel.com
Subscribe by Email |
Subscribe by RSS |
Follow on Twitter
All JBJ posts |