April is Jazz Appreciation Month (so named by the Smithsonian Institution),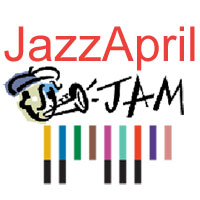 culminating on the 30th with International Jazz Day (a project of UNESCO, organized by the Thelonious Monk Institute of Jazz) — and both those initiatives are endorsed by the U.S. Conference of Mayors. So the Jazz Journalists Association has launched a major media campaign called JazzApril in support of local jazz scenes taking advantage of JAM and IJD to raise awareness of the jazz resources all around us, and today posted bios + photos of 25 JJA "Jazz Heroes," nominated by grassroots activists in 25 cities which will have parties to celebrate them, ask officials to proclaim their endorsements, and generally make noise to show that jazz is everywhere, in April and all year long.
JazzApril is no joke — while launched in cooperation with the Smithsonian and the Monk Institute, it's an independent project of the JJA, the brainchild of or organization's media director and Ozmotic Media principal JoAnn Kawell, and has come together quickly due to the efforts of jazz devotees from Boston to Austin, Gainesville to Seattle (and Ottawa, too). It's a pro bono initiative, and experiment in social media.
Can a small cadre of professional jazz journalists, self-motivated presenters and loyal fans make a visible wave on Facebook and Twitter to reach beyond the jazz audience as we know it, building on our friends' and followers' interests?
Can jazz support organizations such as JazzBoston, Jazz from Bloomington, the Jazz Institute of Chicago, the Western Jazz Presenters Network, Philadelphia's Jazz Bridge, Cleveland's Tri-C Jazz Festival,  the Tucson Jazz Society, and the Jazz Society of Oregon keep their focus local while connecting for a common good?
Will the Media Network of print and online publications (shout outs to JazzWest, Capitol Bop, the Latin Jazz Network, NextBop, London Jazz News, EJazz News, Hot House Magazine, JazzColumbus, New England's The Arts Fuse, Jazz Yorkshire, JazzTokyo, the World Music Report, and New Zealand's John Fenton), bloggers and broadcasters, and sponsors/supporters ranging from Brother Thelonious Ale to Mack Avenue Records to Montclair NJ's wonderful community education non-profit Jazz Kids grow larger and more effective?
Hey, it's only April 1 (beware the ides and IRS). 30 days has this month (which will end with a triumphal jazz mega concert webcast live from Istanbul, but before that comprises jazz celebrations galore, probably one near you). We'll find out.
Want to help? Share facebook posts from the jazzjournalists page, put the twibbon on your icon, tweet using #jazzapril #jazzday #celebrateJAM – implement any of the simple, free or cheap ideas from the JazzApril site for businesses, organizations, educators, journalists and broadcasters, musicians, local governments and community partners. Document with photos, videos — make 30 second videos like public service announcements using your phone showing people (musicians? and listeners too) endorsing local jazz and Jazz Appreciation Month. Let me know what you've done. Jazz it up!