Agnes Varis, a major progressive philanthropist funding the Jazz Foundation of America, Jazz at Lincoln Center and the Metropolitan Opera while fighting for reduced health care costs through perscription of generic drugs and supporting a broad array of Democratic and women's issues, died of cancer July 29 at age 81.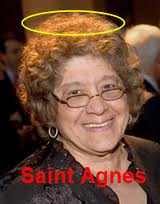 She was officially honored as "Saint of the Century" by Lieutenant Governor of Louisiana Mitch Landrieu at the JFA's annual benefit concert "A Great Night in Harlem," at the Apollo Theater in 2009.
According to the New York Times, Dr. Varis was pre-deceased by her husband Karl Leichtman in 2009, and leaves no immediate survivors. But hundreds of jazz players, newcomers and devoted audiences have been touched by Dr. Varis' generosity. Her donations to the Jazz Foundation in the aftermath of Hurricane Katrina set up a Jazz in the Schools program employing elder musicians; it's currently said to involve 350 of them in 17 states, including 120 in New York City playing free concerts in schools, nursing homes and hospitals. Her annual gifts to JALC (in 2010, $3 million) have led its fundraising efforts annually, paying for infrared lighting systems, a new stage and recording facilities. She underwrote tickets to the Met for senior citizens among other costs, reportedly to the aria of $21 million.
At birth, Agnes Koulouvaris was the youngest of eight children of Greek/Jewish immigrants; she attended Brooklyn college, studying chemistry and English. By profession, she turned into a hands-on businesswoman whose company Agvar Chemicals and Aegis Pharmaceuticals has, according to Bloomberg News, annual revenues between $50 million and $100 million. By conviction, she was a political activist, a "role model [and] mentor," according to the Jazz Journalists Association's citation of her as a recipient of its 2009 "A Team" Award, who "worked to break down barriers for women in business and in politics, having, for instance underwritten a women's campaign school run by the Eleanor Roosevelt Legacy Committee to train and encourage women running for elected office in New York State." She gave support to services for battered women in Bergen county, and helped provide medicines to service workers who lost jobs as a result of the attacks of 9/11.
Among Dr. Varis's many positions, she was Trustee of Tufts University and member of the Board of Overseers at the Cummings School of Veterinary Medicine, Managing Director of the Metropolitan Opera, a member of the board of Jazz at Lincoln Center and the Jazz Foundation, and a member of the President's Committee on the Arts and Humanities. Her greatest efforts went towards reforms of prescription drug policies, which put her in direct philosophical conflict as well as business rivalry with Merck, Pfizer and other giants of the pharmaceutical industry behind the powerful lobbyist group Pharmaceutical Research and Manufacturers of America (PhRMA).
Among organizations she founded, one of the earliest was "New Jersey Business Executives against the Vietnam War." Dr. Agnes Varis told Manuela Hoelterhoff of Bloomberg News she was motivated to "doing good." Saint or not, the woman was clearly on the side of the angels.
howardmandel.com
Subscribe by Email or RSS
All JBJ posts