Composer Steve Reich said, "Without John Coltrane, there
would be no minimalism." The topic was Hall Overton, the man who arranged Monk's music, treating jazz as contemporary "classical" composition. The occasion was a panel discussion sprung from an exhibit at the NY Public Library of the Performing Arts about the Jazz Loft hosted by photographer W. Eugene Smith from 1955-1964 (this is Smith's shot of Overton with Monk in the Loft).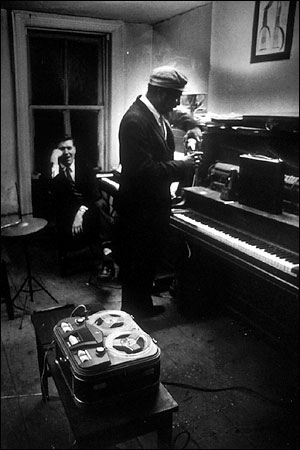 Reich, one of the four American composers (with Terry Riley, La Monte Young and Philip Glass) commonly credited with minimalism's radical break from 12-tone serialism, avowed that saxophonist Coltrane was the pioneer in elaborating on the potential of single chord for half an hour, employing rhythmic complexity, timbral variety and melodic invention rather than complex, far-reaching harmonic systems to sustain listener interest. His explanation was by way of saying that under the tutelage of Hall Overton, a minor composer but major mid-20th century New York City composition teacher, the gulf between jazz and contemporary composition was not ideological but a practical matter to be bridged.
Reich knows, because like his fellow panelist
Carman Moore
and several other '60s genre-defiers, he studied with Overton at the Loft. The lessons which eventually led Reich from his boyhood interest in the foundational bebop drumming of
Kenny Clarke
to "
Drumming
," a breakthrough composition on the subtle evolution of rhythmic complexity from an initially simply pattern. Of the other early minimalists, Young and Riley also had professional jazz experience. But then, so did serial composers such as
Milton Babbitt
.
The relationship of jazz such as Coltrane was exploring in his turn to modes (after having pushed chord progression-based songs to an evident limit with his 1959 piece
"Giant Steps"
) to the formalized paring down of melodic/harmonic cells that exemplifies minimalism may seem counterintuitive. Coltrane's sound on works such as "Africa Brass," "Impressions" (below, with alto saxophonist Eric Dolphy) and his interpretations of "
My Favorite Things
" is sprawling, jagged, intense, expressionistic.
Minimalism, on the other hand, was received by in its early stages as simplistic, static, repetitious and mathematical — or, due largely to Terry Riley's composition "
In C
" and record album
A Rainbow in Curved Air
, communitarian and psychedelic. In the course of the past 50 years, the steady pulsations, consonant harmonies, cellular structures and extended time durations that Reich, Riley, Glass and Young along with diverse European composers established have proved capacious enough to frame a broad range of emotive content.
And the hybridization of jazz and "classical" musics, simultaneous with a breakdown of barriers in audiences simply looking for varieties of enjoyable, enriching music, has continued unabated. The NYPL for the Performing Arts panel was moderated by pianist Ethan Iverson of the Bad Plus, who added personal appreciation and insights about Overton's composition
"Polarities No. 1
." No one was shocked that the brainy guy at the core of
jazz's most popular power trio
would be interested in abstract written music. Who says we can only like one kind of sonic construction? By what authority are hierarchies of artistic initiatives decreed?
At the Jazz Loft, everybody mixed up everything. That spirit of adventure continued at Manhattan lofts such as
Studio Rivbea
,
Ladies Fort
,
Ali's Alley
and
Cobi Narita
's Jazz Center of New York into the 1980s. A few such places popped up throughout Manhattan's real estate's go-go decades, and today a couple of them (most notably
the Jazz Gallery
) continue.
The lofts, often artist-run, offer ambiance much different than in nightclubs and concert hall, sustaining the ethos of experimentation and exhibition of what's new. It's a pleasure to visit them for a night of music that's a step or two removed from obvious commercial imperatives. Places where cultures clash and ideas co-mingle remain the breeding ground for things to come. If only there were most spaces encouraging such freedom.