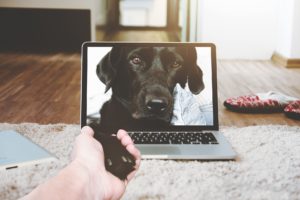 For as long as there have been machines, I suppose, the question has been asked: Can Machines Make Art?  With the exponential growth of artificial intelligence this century, the topic is discussed with increasing frequency.  It's an interesting question, but there is a supplementary question that I find even more interesting:  How Much Do We Care About Machine-Made Art?  To me, there are at least three valid answers: a lot, a little, or not at all.
Here's an analogy.  Household pets have been around for most of human history.  Some people develop deep and abiding relationships with household pets, enough to make the question Can Household Pets Have Deep and Abiding Relationships with Humans ludicrous.  For some people, the relationships they have with their pets are all that they need – human relationships are superfluous.  Others prefer to have relationships with both pets and people.  Still others never feel the need to connect with an animal – people are all they need.  And, of course, there are those who would just as soon not connect with anybody or anything.
Taken in that light, the objective answer to the question Can Machines Make Art is what it is, while the subjective answer to Do I Care About Machine-Made Art a Lot, a Little, or Not at All is one that each of us can answer accurately and with complete validity, whether by choice or just by personal predilection.
We can believe that machines will develop the ability to create art, if they don't already have it, but there is no reason to assume that machine-made art would replace art made by people.  Machine-made art could just be one option available to those who prefer it or those who are happy to have it.  And anyone who wants art that offers a human point of view, either in conjunction with machine-made art or to its exclusion, can have that as well.