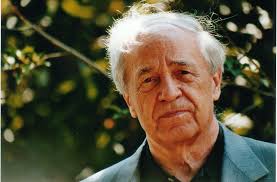 Pierre Boulez's passing last month brought back memories of what a giant he was in his prime.  He certainly gave the generations that followed a complex heritage.  I really can't imagine what it must have been like to be one of his contemporaries.  A bit like running for president the same year Donald Trump decided to get his name on the ballot.
Boulez was a terrific composer who exerted a huge influence.  He was also famously vicious to those who weren't in his camp.  Some artists seem to use belligerence in order to find their own space in which to work. But that sort of behavior is not required of all artists, any more than it is necessary for anyone who runs for President to say that carpet-bombing Syria is the answer to all our problems.  In other words, bad behavior for an artist can and should be called what it is, even if we find it unsurprising.
I don't say this to chastise Boulez, who we can only assume was doing the best he could with what he had.  I just think it is important to separate artistic achievement from bombast.  Otherwise we run the risk of exalting artists for the wrong reasons.  We have to remember that we are the ones who get to decide who is worth listening to.
Was Boulez one of the best composers of his generation?  He certainly created some unsurpassable work, so the answer is definitely yes.  But he was better at blasting out new mine shafts than carving exquisite gems.  And, much as the candidate who proposes a nuanced approach to the economy is less likely to get attention than the one who hurls juicy insults, it's easy to imagine that many 20th-century crafters of fine gems were rendered useless by his attention-getting invective.