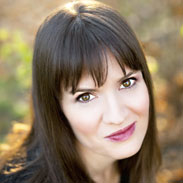 Our Composition Department spent the last few weeks immersing ourselves in music by Kati Agocs, a wonderful Hungarian-by-way-of-American-by-way-of-Canadian composer.  We focused our energies on three works, at her suggestion:
St. Elizabeth Bells for cello and cimbalom
The Debrecen Passion for 12 female voices and orchestra
Vessel for 3 female voices and 10 musicians
After digging into these works from every conceivable angle, students gave detailed presentations, sparking great discussion, insights and questions.  Then we got the composer herself on Skype to answer questions and share her experience and advice.
Like a number of composers from her generation, Agocs has consistently shown a fascination with cross-cultural connections, especially with various types of sacred music from throughout the ages.  The Debrecen Passion (2015), in particular, surrounds texts by Hungarian poet Szilárd Borbély with other texts of Hungarian origin, as well as Medieval Latin and Kabalistic prayer, resulting in a multi-faceted meditation on love and loss.  The work is tinged with a sense of sorrow, partly precipitated by Borbély's suicide last year.
Vessel also scans across cultural boundaries.  Like an ars nova motet, it threads together three texts in three different languages in support of a single message.  The centerpiece, or cantus firmus, if you will, is a setting of e e cummings' i carry your heart with me (i carry it in), using a fairly straightforward, melodic approach.  Woven around that setting is Jehuda Halevi's The Garden of His Delight, a medieval love song, and Catullus' His Boat, which is mostly in Latin with some ancient Greek.  The three occupy largely distinct, though simultaneous, sound worlds, coming together at the climax, in a spot where they align both musically and in uncanny phonemic coincidences.
St. Elizabeth's Bells was the one purely instrumental composition.  The subject is one that has always been with us, but is pressing in new ways: the adult observing a parent's final days.  The composer's father, having returned to his native Hungary, ended up in a hospital across from St. Elizabeth's Cathedral in Budapest.  She imagines his experience of the cathedral bells in his final hours, capturing the sound through her own distorted memory.  Although she says the piece is not mournful in quality, a somber mood prevails, and lamentation is never far away.
Our session with Kati was excellent.  She joined us from her office at the New England Conservatory, and fielded questions all over the map with grace and alacrity.  Her advice for the students was always on the mark, from getting performances of their work to proper binding of scores to the inescapability of initial impressions.  She let us know that a string quartet – her first – is in the works: something to look forward to.