If you're down in the dumps about Trump, or just coping with some post-holiday blues, I'm making an effort this month to perk you up with something atypical of the hypercritical CultureGrrl—good news. I'll start by my eating some of my critical words while extolling plans for the Getty Villa's long-overdue sweeping reinstallation of its antiquities collection at the Getty Villa, Malibu.
This month, that work has finally started. Here's a designer's rendering of what, for now, appears to be a rather stark-looking gallery: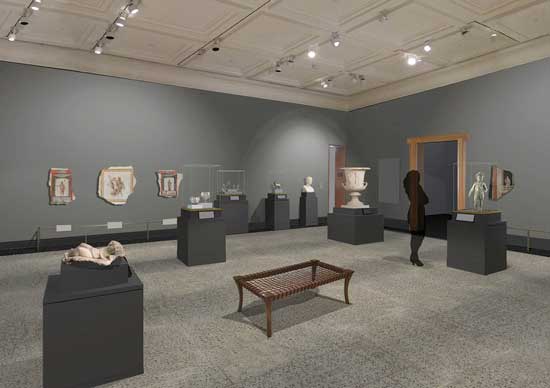 According to the Getty's announcement, the arrangement of the museum's superlative (sometimes controversial) collection of ancient Greek and Roman art will be transformed from "its current thematic organization to a largely chronological, art historical presentation." While that work proceeds, "at least half the galleries will stay on view at any given time." Augmented by almost 3,000 square feet of additional gallery space, the re-do is expected to be complete in Spring 2018.
Eight years ago, I had roundly criticized the Villa's installation as "simplistic, mindless" and "inexcusable." As I then wrote on CultureGrrl, objects from different times and cultures were jumbled together under superficial themes, such as "Men in Antiquity," "Animals in Antiquity" and that old favorite, "Gods and Goddesses." I judged the this mishmash to be "demeaning [to] the Getty's serious holdings."
Timothy Potts, the museum's director, seemed to agree, as he explained the rationale behind his plans for the Villa's reinstallation during my 2014 Q&A with him :
We still will have pockets that are thematic—about the iconography, or vase painting, or a medium. But you'll also be able to see the progression of culture and why styles evolve the way they do. You can't jump from the Archaic to the Hellenistic without going through the Classical. It doesn't make sense.
Also starting to make more sense to me is James Cuno, president the J. Paul Getty Trust (of which the museum is one component). He had been strongly criticized by me and others for his position advocating encyclopedic museums' acquisition and retention of antiquities of ambiguous provenance, including some claimed by countries of origin. But his views are starting to seem more defensible in light of the ghastly depredations of terrorists who have decimated museums and irreplaceable archaeological sites sites in the Middle East.
It may well be that institutions like the Metropolitan Museum, with its comprehensive collections and far-reaching temporary exhibitions—notably Assyria to Iberia—provide some needed assurance that we can continue to preserve, appreciate and study the cultural objects similar to those now endangered in unstable regions. By eerie coincidence, the Met's superlative show, curated by Joan Aruz, included a digital reconstruction of the Northwest Palace of Ashurnasirpal II at Nimrud (near Mosul in northern Iraq)—a site that was blown up by ISIS in 2015, just a couple of months after "Assyria to Iberia" closed. (Unanswered at this writing are my repeated queries to the Met's press office as to whether Aruz, whose work is now more essential than ever, is still on staff there or has departed in the recent wave of buyouts and layoffs.)
The reconceived Getty Villa may include some antiquities from the ancient Near East: According to a post this month by Amelia Wong in The Iris, the Getty's blog, a new classical-world-in-context gallery will be created, to display "long-term loans of important objects from non-European cultures that will help give better context to the Getty's collection of mostly European antiquities." In a 2012 interview with me, Potts, an archaeologist and specialist in the ancient Near East, had expressed a desire to enrich the Villa with works from "the late antique period: Byzantine art, Islamic art and others."
Will he get to have his non-European antiquities and keep the Getty Bronze too?