Decades ago, before Christie's introduced the buyer's premium to New York, auction houses in the U.S. were clear on who they represented: Their client was the seller. Today's murky waters just got murkier with Sotheby's jaw-dropping announcement yesterday that it hopes to "provide planning services and manage projects for artists, artist estates and foundations."
This conjured up one persistent image, and it wasn't the press release's photo of Christy MacLear, currently the Robert Rauschenberg Foundation's inaugural CEO, who next month will become vice chairman of the auction house's Fine Arts Division, with the mandate to draw artists, their estate trustees and their foundations into Sotheby's orbit.
The picture painted by Sotheby's intention to offer "strategic planning" to help artists and their estates and foundations "transition assets [including artworks?], with a long-term view of use and value [including sales?]," could be titled: "Fox Guarding the Henhouse." (The italicized words above are my own extrapolations from the official announcement.)
Sotheby's chief business, no matter whom they represent, is monetizing art and other collectibles. Artists' estates and foundations could prove to be a largely untapped goldmine at a time when fewer top-quality postwar and contemporary works are making their way to auction from collectors and dealers. Could Sotheby's interest in churning the assets under its aegis run into conflict with the best interests of the artists, their estates and foundations with whom they may contract to provide disinterested advice? How will its interest in being the artists' or estates' sales agent be counterbalanced with the interest of galleries that have long represented and advised them? Will those galleries decline to represent Sotheby's-advised artists?
Case in point: MacLear's current home, the Rauschenberg Foundation, was previously involved in litigation regarding fees to be paid to trustees of the revocable trust whose sole remainder beneficiary was the Foundation. According to this report on that court case, the increase in the value of the assets in the trust, which were "comprised mainly of high-value works of art created by Rauschenberg," was thought to be "due at, least partially, to the trustees' 'strategic plan to withdraw Rauschenberg's art from the market, in order to prevent a decline in value from speculators or collectors flooding the market with his art.'"
Although MacLear will undoubtedly vow to champion the long-term interests of Sotheby's new artist-clients, it's hard to imagine the advisory arm of an auction house counseling against making sales. Nowhere in the announcement of this new (unnamed) artists' advisory service (or in the reports that I've seen on it) is there any information about how this new stream of revenue will be structured: What exactly will Sotheby's compensation consist of (flat fee? sales commissions?) and how will that be calculated?
Interestingly, Christie's long-time chairman of Post-War and Contemporary art, Brett Gorvy, also felt the urge to represent artists, but, like many auction-house specialists before him, he's taking a traditional path—becoming a dealer. As I reported last week, he will spearhead an "advisory and collections management service" at the Dominique Lévy Gallery (to be renamed Lévy Gorvy) that will "work very closely with artists' families, foundations and estates, and estate attorneys to protect and advance the legacy of significant career artists internationally, engineering the embrace of new generations of curators, collectors, and audiences."
I didn't know how right I was on Dec. 7 when I wrote that this could put him "in competition with a contemporary art colleague Gorvy knows well—his former Christie's associate, Amy Cappellazzo, whose advisory service, Art Agency, Partners, was recently acquired by Sotheby's."
At this writing, there's no news on the Rauschenberg Foundation's website of MacLear's flight to the commercial world. But in her Director's Letter of Dec. 14, she reflects on her activities there in the past tense: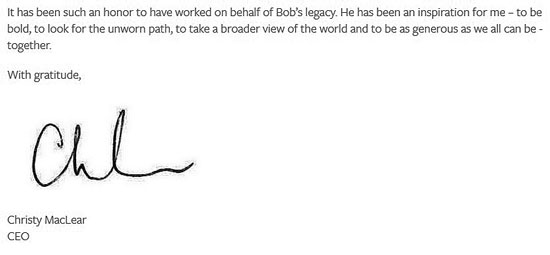 What would Bob have felt about MacLear's using his foundation as a stepping stone to Sotheby's? I was in the room, just feet away from him, when this happened at the famous 1973 Scull sale.