Having just returned home yesterday from a mini-vacation (during which I played golf and tennis, changed CultureGrandson's diapers and assiduously avoided looking at any art), I found myself embroiled in a friendly Twitter debate with Roberta Smith, the NY Times' co-chief art critic, regarding the merits (her side of the argument) and possible pitfalls (my side) of shows mounted by nonprofit art museums in celebration of commercial art dealers.
The occasion for this conversation was this CultureGrrl post questioning the Museum of Modern Art's plans for a loan exhibition devoted to dealer Ileana Sonnabend, whose heirs recently donated to MoMA a Rauschenberg masterpiece that Ann Temkin, the museum's chief curator of painting and sculpture, told me last week will almost always be on view in MoMA's permanent collection galleries:
For those who don't follow @CultureGrrl and @RobertaSmithNYT on Twitter, here's a complete recap of our attempt to address a complicated issue in 140-character thought-bites.
And here's an excerpt from our longer back-and-forth: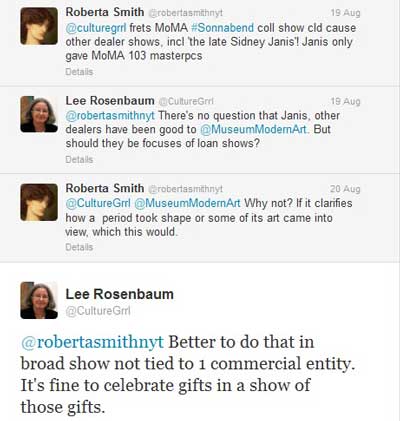 The danger of trying to distill a complicated issue into neat tweets is that subtleties and nuances get lost. I had approached my phone interview with Temkin last week with misgivings about any loan show (as distinguished from a show of works donated to MoMA) that pays tribute to a recently deceased commercial dealer whose gallery remains an ongoing enterprise. But Ann did make a strong, well argued case for why this pioneering dealer was (as I myself described Sonnabend in my last post) "an intriguing, even worthy, subject" for the full MoMA treatment.
In particular, the feminist theme in Temkin's appreciation of Sonnabend struck a responsive chord:
The emphasis in the show is on the history of the gallery and landmark exhibitions that took place in Paris or in New York that transformed the public awareness of (or, in fact, introduced) a given artist to the audience….There are so many subplots…, which include the role of women as dealers at mid-century.

This was the area where an ambitious, courageous, intelligent person had the elbow-room, whereas it's highly unlikely she would have in an academic setting or a museum setting or more corporate auction-house setting. Sonnabend is one of a group of really inspiring stories for people like myself.

Also, a point that comes across from this very diverse mix of artists…is the remarkable fact of her not being tied to one style or generation. There are so few…who have that ability to reinvent their own eye for everything new that comes to it, instead of meeting what they see with some kind of expectation of what they want the art to conform to.
MoMA's natural desire to honor the landmark donation of "Canyon" to the museum's already superlative collection, coupled with the genuinely interesting, even (in Temkin's word) "inspiring" story of Sonnabend's artworld trajectory, might have weakened my reflexive resistance to the blurring of boundaries between nonprofit museums and for-profit galleries.
But then I learned (as I recounted in my previous post) that Temkin doesn't see Ileana Sonnabend: Ambassador for the New (Dec. 21-Apr. 21) as a one-off. She indicated that MoMA's first-ever show paying tribute to a commercial dealer could open the door to more such forays at MoMA. This would likely have a snowball effect, as other museums follow the example one of our country's preeminent art institutions. The taboo against museums' accepting dealers' financial support for shows of their galleries' artists has already been repeatedly broken. Single-dealer shows may soon become a new avenue of gallerists' incursion into the nonprofit domain.
The slippery slope beckons. And that's why bending core principles is always problematic, even in somewhat ambiguous cases like MoMA's upcoming Sonnabend fest.