While in St. Louis for my speaking engagement at the Contemporary Art Museum, I also got a chance to explore the exterior of the soon-to-open David Chipperfield-designed, LEED gold-certified expansion of the St. Louis Art Museum, fully funded at a thrifty $160 million, including about $30 million for endowment.
The new East Building, more than 200,000 square feet in size, will contain 21 galleries, increasing the museum's total space for exhibiting art by about 30 percent. It will be be a place for post-1945 works and some ancient art from the permanent collection, as well as for special exhibitions. To my disappointment, though, I was not allowed to go inside. The reason given was that they were in the midst of installing the art.
CultureGrrl readers may remember another midwestern museum's Chipperfield building that I admired a few years ago—the Figge Art Museum in Davenport, IA:
The St. Louis Art Museum's existing building has been renovated and reinstalled as part of its capital project. Here's a view of one of the most impressive rooms in the new hang: a spacious installation of the museum's celebrated, extensive collection of works by Max Beckmann:
Here's another view of some of the Beckmanns, including his 1939 "Acrobats" triptych, in the center of the wall on the right: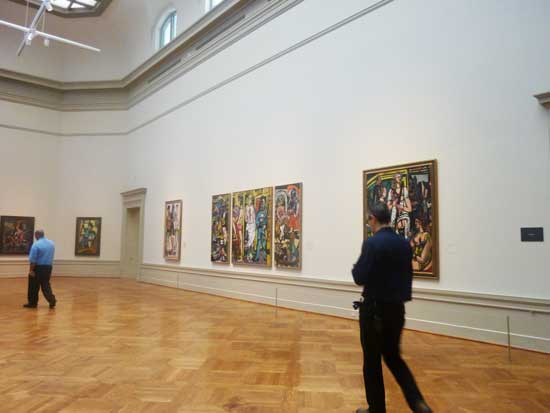 At the bottom of this post, you can have an advance peek at the exterior of the new building in my CultureGrrl Video, which ends with an on-site interview with Tricia Paik, assistant curator of modern and contemporary art, amidst the limestone arches of Andy Goldsworthy's "Stone Sea," a newly commissioned work in a confined, inconspicuous gap between the new building and the original 1904 Beaux Arts building designed by Cass Gilbert.
To give you an idea of my first, tentative impressions of the new building, here's what I told Stefene Russell of St. Louis Magazine for her interview transcript—Talking to Lee Rosenbaum, AKA CultureGrrl, about Arts in St. Louis. (The links below are mine, not hers.)
Russell: I wanted to talk [about] expansions, because that's on everyone's mind because of the Saint Louis Art Museum….On your blog today, you were posting about St. Louis—how the last time you were in town, the only thing [related to the expansion] that was done enough to see was the little model in the lobby.

Rosenbaum: I did get to see it from the outside. I was not allowed to go in, because they were installing art….I was impressed. It contrasts. It doesn't try to imitate the Cass Gilbert building, which I think is a good thing; you don't want to slavishly imitate that. It's very different, and yet I think it is respectful.

I haven't gotten inside yet, and it's hard to review a building until you get to see how it works as gallery space, how it works as a museum. But I guess I'm cautiously optimistic.

Russell: St. Louis and Kansas City are always in this sort of competition about this and that, so I'm curious about your thoughts on the Nelson-Atkins expansion, too.

Rosenbaum: In a way, it came to mind in connection with this, because it was another case where the architect did something that was clearly of today; he didn't try to slavishly imitate the more traditional museum building that he was playing off of, and yet somehow it worked. That one [Nelson-Atkins] was a much more flamboyant building.

As the St. Louis [Art Museum] spokespeople said [to me] yesterday, [architect David] Chipperfield is not doing a "look-at-me" kind of building. It's not a Steven Holl [architect of the Nelson-Atkins expansion] it's not a Frank Gehry. It's trying to stay respectfully in the background, and yet provide something new.

I love the poured concrete with the flecks of the aggregate, to play off the limestone. I thought that was a nice touch. So [the Nelson-Atkins] did come to mind, though it's a very, very different building. But they are both trying to do the same thing, which is work with what's there but not slavishly imitate it. And I think that's the way to go with expansions, I like that approach.
I also like the approach of the St. Louis Art Museum in overseeing an expansion that it could comfortably afford and delaying construction to early 2010 from a planned November 2008 start, to provide more time to get the necessary financial underpinning in place after the economy took a hit from the Lehman Brothers-related financial implosion. Some $45 million of the $160-million total was reportedly raised through bonds. The museum's board cited "unstable credit markets" as a reason why the project had been delayed, according to Tim Logan's article in the St. Louis Post-Dispatch.
UPDATE: Responding to my query about the bonds, Matthew Hathaway, the St. Louis Art Museum's press officer (and a former Post-Dispatch financial writer), told me that actual amount of the bonds was somewhat more than the $45 million that the Post-Dispatch had reported: There were two different sets of bonds issued by the Industrial Development Authority of the City of St. Louis: $20,710,000 and $25,515,000, to be paid off over period of 27 years, starting on December 1 of this year.
Enough about money. Now come join me as we meander around the building, ending up with Tricia Paik amidst the limestone arches of "Stone Sea":