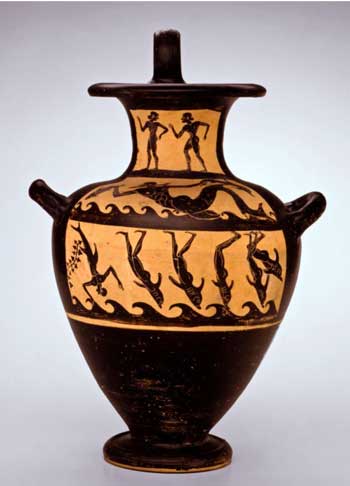 Back to Italy: Etruscan black-figure kalpis, attributed to the Micali painter or his workshop, late 6th century B.C.
In his announcement late yesterday of the Toledo Museum's agreement (full text, here) to relinquish to Italy an important Etruscan black-figure kalpis (water vessel), Steven Dettelbach, the U.S. Attorney for the Northern District of Ohio, exulted:
This is an example of our office, ICE-HSI [Immigration and Customs Enforcement-Homeland Security Investigations] and the Toledo Museum of Art working collaboratively [emphasis added] to return this artifact to its rightful place.
That's not precisely how Brian Kennedy, the museum's director, regarded the government's strong-arm tactics. In yesterday's Toledo Blade, Tahree Lane wrote:
Disturbing to Mr. Kennedy and Carol Bintz, the museum's chief operating officer, were three threats between November 2010, and January 2012, that if the object wasn't handed over, Immigration and Customs Enforcement agents would seize it. Mr. Kennedy likened it to a drug bust [emphasis added]. Each time, the museum asked for additional proof or a chance to work out a culture-exchange with Italy. [There are no cultural-exchange provisions in the above-linked agreement.]

"When I came in [to this case], they felt they had investigated it fully enough and they didn't feel they needed to share that information with me," Ms. Bintz said. At first, Immigration and Customs Enforcement provided only poor-quality copies of photos.
Polaroids of the mud-encrusted kalpis were among those infamously seized in 1995 from the warehouse of subsequently convicted art smuggler Giacomo Medici.
We are starting to see a highly disturbing pattern of heavy-handed threats by the federal government to seize works that are at no risk of disappearing during the due process of thoroughly analyzing their ownership histories and legal status. The enforcers should let this process run its course, through fact-finding, collegial negotiation and, if necessary, a court judgment deciding the question of ownership. When the disputed works are safely residing in museums, no one is served by taking them off public view and secreting them in government warehouses until the legal issues have been sorted out.
According to the government's press release (linked at the top), the kalpis "was smuggled out of Italy after an illegal excavation prior to 1981. It was then sold in 1982 to the Toledo Museum of Art by art dealers Gianfranco and Ursula Becchina, who had earlier purchased it from convicted art smuggler Giacomo Medici. The Becchinas misrepresented the true provenance of the vase to the museum by providing falsified documentation, according to court records."
Although stating that "a cultural artifact such as this has value beyond its price tag," the government, using an appraisal provided by the Italian government, put its current worth at "more than $665,000." In its verified complaint, the government said the museum's purchase price, 30 years ago, was less than one-seventh of that:
In 1982, TMA [Toledo Museum of Art] relied on the defendant property's [the kalpis'] fraudulent provenance and purchased it from Becchina for approximately $90,000. TMA officials entered into the agreement to purchase the defendant property believing that the defendant property's provenance was genuine.
The "defendant property" will go back to Italy "later this year." Go see it, Toledo art lovers, while you still can.
UPDATE: A spokesperson for the Toledo Museum has informed me that "the kalpis will remain on view until August/early September in our Impressionist Gallery, right off our
second-floor lobby. There are no plans for a cooperative cultural
exchange."
And in other art-seizure news: Attorney Rick St. Hilaire, whose blog has become the go-to source for cultural-property news, reported Tuesday on the federal goverment's renewed efforts to get its hands on the St. Louis Art Museum's Egyptian Ka-nefer-nefer mask: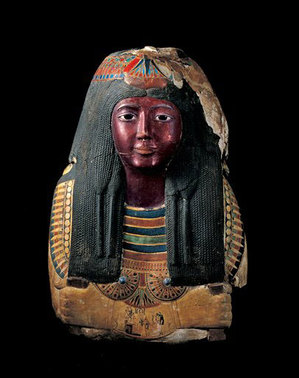 Mummy Mask of the Lady Ka-nefer-nefer, Egyptian, Dynasty 19 (1295-1186 BC), St. Louis Art Museum
Yesterday, St. Hilaire provided commentary [via] on Australia's ABC Radio National regarding the legal dispute over the U.S. government's ongoing attempt to seize a Cambodian 10th-century Khmer "Athlete," consigned to Sotheby's: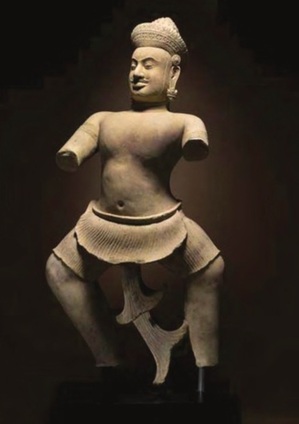 Contested 10th-Century Khmer "Athlete"
A status conference for this case, held yesterday in U.S. District Court, gave the auction house until Aug. 20 to file its arguments opposing the government's seizure. The next court hearing on the Khmer statue is scheduled for Sept. 18.