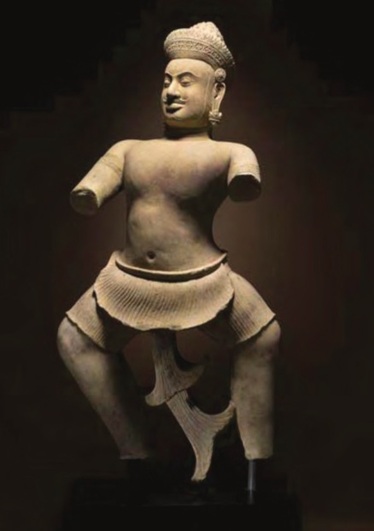 Object of Contention: 10th-Century Khmer "Athlete," held by Sotheby's
The Feds are doing it again—trying to intervene in a cultural-property ownership dispute by seeking to seize an antiquity thought to have been out of its country of origin for decades. In what I believe to be heavy-handed and counterproductive interference in what should be, at worst, a legal dispute between owner and claimant or, at best, a series of conversations leading to a negotiated settlement, the Office of the U.S. Attorney for the Southern District of New York filed a complaint last week in U.S. District Court seeking to seize a privately owned 10th-century sandstone sculpture that is currently being held at Sotheby's in New York.
In the words of the press release issued by the U.S. Attorney's office, "The statue had been stolen from the Prasat Chen temple at Koh Ker in Cambodia."
The object of contention, withdrawn before it was to have been auctioned on Mar. 24, 2011, was described in a Sotheby's press release as a "spectacular 10th-century Khmer Koh Ker
period "Athlete" from a European private collection (est. $2/3 million). Acquired by the original owner over 40 years ago, the figure is mate to the Koh Ker athlete at the Norton Simon Museum in Pasadena that is almost identical in posture and physical appearance."
In the wake of the Feds' setback (for now) in its attempt to seize the Saint Louis Art Museum's Ka-nefer-nefer mummy mask, the U.S. Attorney in the Sotheby's case was also at least temporarily stopped by a judge in Manhattan from seizing the contested Cambodian sculpture. U.S. District Judge George Daniels has scheduled a conference for tomorrow (Wednesday) to discuss this matter further.
In a letter opposing the U.S. Attorney's planned seizure, an attorney for Sotheby's directly relied on the Ka-nefer-nefer precedent. (That letter, by Peter Neiman, was posted on the Chasing Aphrodite blog, which has reported on the case here and here. The NY Times has reported on it here and here.)
Sotheby's attorney wrote this to Judge Daniels:
In Ka-Nefer-Nefer, the Government at least had evidence that the statue was once in the foreign state's actual possession; here the complaint suggests that the statue was not mentioned in the survey and not shown in the photographs
on which the Government relies.

If the inference of theft was unavailable to the Government with regard to a mask that disappeared from the Egyptian government's storeroom at some unknown point within a single decade, it surely is unavailable as to a Statue that disappeared from a jungle site in Cambodia at some unknown point in the last thousand years.
Here's a screenshot, from an on-site report in Cambodia by Voice of America (full video below) of what are said to be the statue's feet, still in situ: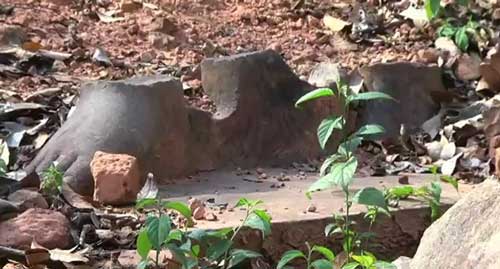 In its official public statement, Sotheby's criticized the Feds for "interrupting the cooperative discussions" with Cambodia. The auction house also directly raised the possibility that federal seizure attempts may drive the antiquities market underground:
Sotheby's strongly disputes the allegations made in this complaint. This sculpture, which had been in the possession of a good faith owner who obtained good title almost 40 years ago, was legally imported into the United States and all relevant facts were openly declared. We have researched this sculpture extensively and have never seen nor been presented with any evidence that specifies when the sculpture left Cambodia over the last one thousand years nor is there any such evidence in this complaint.

We have been in active discussions for a year with both the U.S. and Cambodian governments and we had assured them that we would voluntarily maintain possession of this statue. Cambodia has always expressed its desire to resolve this situation amicably, and it is therefore disappointing that this action has been filed, interrupting the cooperative discussions and efforts that had been ongoing to achieve a solution acceptable to both sides [emphasis added].

With respect both to this sculpture and to all cultural heritage objects we offer for sale, Sotheby's engages in a completely transparent and public process, which we know often invites commentary, criticism, and even occasional complaint. However, condemning a public effort to responsibly conduct a sale process for an object that has been out of its original site for an unknown period of anywhere from 40 to a thousand years inevitably drives those owners of antiquities toward private transactions [emphasis added]—an outcome deeply disadvantageous to any and all who claim to be on the side of sensitive and careful handling of this material. Sotheby's remains deeply committed to being a force for responsible advocacy in this area, and we intend to defend this action vigorously.
Unmentioned by Sotheby's is that European collectors (like the owner of the contested statue) might avoid consigning objects to auction houses or dealers in this country if they feel that their objects may be subject to forfeiture.
The other question in everyone's mind is what this ownership dispute may mean for the Norton Simon Museum, Pasadena, which owns the companion piece to the statue now at Sotheby's.
The online catalogue listing for the Norton Simon's "Temple Wrestler" includes an audio podcast, with evocative background music, that states:
Imagine how effective this massive guardian figure must have been when it originally protected a major temple in Cambodia….Indeed, this monumental figure is from a site…known as Koh Ker, the capital of the realm from 921 to 941.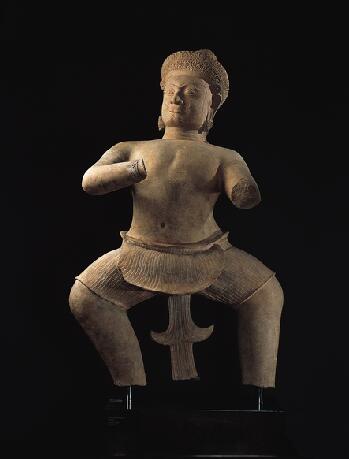 "Temple Wrestler," c. 925-50, Norton Simon Foundation

A Voice of America video, below [via], makes it clear that the Norton Simon is already in Cambodia's crosshairs. Daniel Schearf reports that a Cambodia official has declared that if the attempt to claim the Sotheby's statue succeeds, his country "will try to recover the statue's twin at a museum in California, as well as countless other missing pieces of Cambodia's rich cultural history."
Schearf's video includes shots of the site from which the statues were allegedly looted:
Here's the official statement on this matter that was issued by the Norton Simon Museum:
Sotheby's recent offer of a Khmer statue titled "Athlete" has spurred interest in a similar Khmer statue owned by the Norton Simon Art Foundation—a "Temple Wrestler," dated c. 925-50 (M.1980.15.S). "Temple Wrestler" was purchased by the Norton Simon Foundation on Sept. 13, 1976 from the New York dealer William H. Wolff, and later transferred to the Norton Simon Art Foundation and displayed at the Norton Simon Museum of Art at Pasadena.

Since that time, the museum has proudly displayed this important example of Cambodian art, and has had the privilege of showing it to the director of the National Museum of Cambodia (who we understand is now the Director General of Heritage, Ministry of Culture and Fine Arts).

In more than three decades of ownership, the Foundation's ownership of the sculpture has never been questioned.
Meanwhile, the Ka-nefer-nefer case isn't over till it's over. At the Federal Government's request, U.S. District Court Judge Henry Autry has given the U.S. Attorney until May 7 to possibly amend the government's complaint and file a motion for reconsideration of the fate of the St. Louis Art Museum's mummy mask, which is being sought by Egypt.
What's more, SLAM's lawyer, Patrick McInerney, recently told me: "There is always the chance that the government could appeal the [U.S. District] court's finding. If they do so, it would be to the 8th Circuit Court of Appeals."
In his Looting Matters blog, David Gill suggests that there are discrepancies in the museum's and the court decision's accounts of the mask's history of ownership. Whatever the legalities and technicalities, he argues that the museum should "do the ethical and professional 'right thing' and return the mask to Egypt."