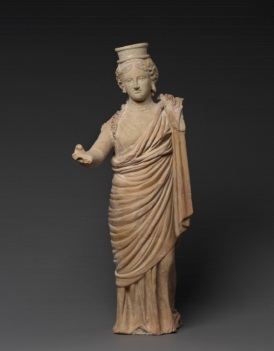 Now at the Getty: Statue of Persephone, c. 300 B.C., Regional Archaeological Museum of Aidone

I've been traveling on a work-ation since Thursday, so I haven't had a chance to report on the press lunch hosted by Jim Cuno in New York City last Wednesday—his first since becoming president of the J. Paul Getty Trust. The last time I saw him preside at an NYC press gathering, Jim was the president and director of the Art Institute of Chicago. Speculation was then rife that he might be named to the Metropolitan Museum's directorship (which instead went to Tom Campbell).
Disappointing the NYC scribe tribe last Wednesday, Tim Potts, the Getty Museum's director-designate, stayed put in Cambridge, England (where he is still at his director's post at the Fitzwilliam Museum). But he will venture to Los Angeles later this month to meet his future staff and go house-hunting, in preparation for assuming his new post in September.
This was not your usual NYC press briefing by an out-of-town museum, which almost invariably provides details about future plans. The usual motive for stuffing New York art writers with chicken and news is to entice us to venture away from home to review distant exhibitions and/or expansions. What made this press briefing different from most (aside from the absence of a museum director) was that it was almost entirely backward-looking: Until I asked a question at the very end about what lies aheads, we mostly heard about the well-known functions of the various Getty constituents and got an update their recent accomplishments.
We did, however, also receive a voluminous press packet that included one-paragraph descriptions of future exhibitions. One in particular, which opened on Saturday at the Getty Villa (the antiquities outpost in Malibu), interested me: "The Sanctuaries of Demeter and Persephone at Morgantina," to Jan. 21, 2013, includes "37 objects, 4th-2nd century B.C., excavated from the sanctuaries of the ancient city of Morgantina in central Sicily. On loan from the Regional Archaeological Museum of Aidone, these works include terracotta figures of deities, vases and oil lamps, a lead curse tablet, and bone clothing and hair pins," according to the Getty's more detailed press release, which arrived by e-mail the night after the press lunch.
The Getty's conservators, prior to the show, restored some of the loaned Italian objects and provided some with new earthquake-resistant mounts that will go back with them to Italy, Ron Hartwig, the trust's vice
president for communications, told me.
What's strange about the exhibition's above-linked press release (aside from the fact that it doesn't seem to be on the museum's website at this writing) is that while it mentions that the "Sanctuaries" show is a result of "a 2010 agreement [my link, not theirs] calling for a number of collaborative projects, including object conservation, seismic protection of collections, exhibitions, scholarly research, and conferences," it never states why this accord (as well as a 2007 agreement also alluded to in the release) came about: The agreements resulted from the decision by the Getty, under the previous museum director, Michael Brand, and the late trust president, James Wood, to relinquish antiquities that Italy had alleged were looted from its soil and illegally exported.
The most celebrated (and mourned) of those givebacks was what Italy calls the "Morgantina Venus," although scholars believe (scroll down) that she's more likely Hera or Persephone. Almost a year ago, she went to the same museum in Aidone that is lending the objects for the current Getty show. Her pose is somewhat similar to that of the statue of Persephone, above, that is now on termporary display at the Getty.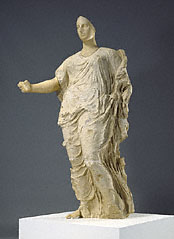 Cult Statue of a Goddess (the "Aphrodite" aka "Morgantina Venus," but more likely Hera or Persephone),
425-400 B.C., Greek, returned to Italy last May by the Getty Museum
Could it be that the notoriously repatriation-averse Cuno didn't want Wednesday's press release to allude to the givebacks that made these and other Italian loans to the Getty possible?
It will be interesting to see how he and Potts (who recently gave me his views on antiquities collecting, here) will respond to new cultural-property demands. After a lull, the antiquities wars seem to be heating up again. As reported by Jason Felch in the LA Times and his Chasing Aphrodite blog, Turkey recently claimed objects from four U.S. museums, including 10 pieces from the Getty.