[More on this here, here and here.]
Once again, I've proven to be inept at predicting future museum directors.
But my wrongheaded guess (scroll to the bottom) as to who might be tapped to lead the J. Paul Getty Museum impelled someone to set me straight. According to a highly informed, reliable source (who requested anonymity), the not-yet-announced choice is someone who, back in June 2008, was on CultureGrrl's shortlist of Who Should Succeed Philippe at the Met?.
Like the Getty's previous director, Michael Brand, he's a native Australian: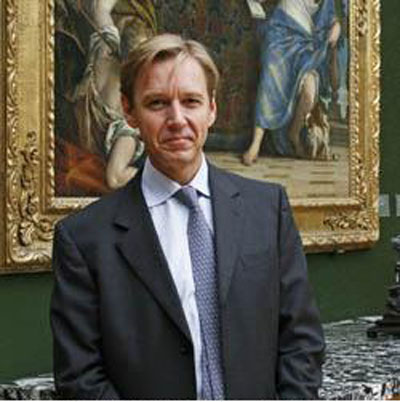 Timothy Potts, director of the Fitzwilliam Museum at the University of Cambridge (and former director of Kimbell Art Museum, Fort Worth)

Contacted by me by phone today, Ron Hartwig, the Getty's vice president for communications, said that a museum director would be announced before the end of June. He declined to confirm or deny that Potts has been chosen, or even that a choice has been made.
"I'm not surprised that you'll hear leaks or rumors, or whatever it is," Hartwig told me. "When we have something to announce, we're going to get it out as quicky as we can."
On Potts' watch, the Fitzwilliam Museum at Cambridge has recently reopened its gallery of French Impressionists and other 19th to early 20th-century artists—part of what the director called a "staged program of refurbishment of [the Fitzwilliam's] galleries, which provides an opportunity not only to refresh the displays but, just as importantly, to bring the fruits of new research and interpretations to bear on the understanding of our works."
I think he is a good, even inspired, choice. Here's my impression of Potts (whom I once interviewed at length at the Kimbell), as described in my "Who Should Succeed Philippe" post (with a couple of updates in brackets):
There's one big cloud over Potts—his precipitous, unexplained resignation [in 2007] from the more prestigious and undoubtedly better paid directorship of the Kimbell Museum, Fort Worth….Clearly, the Met's trustees [and now the Getty's] would have to get the full story before reaching a decision.

An archaeologist by training, Potts is intellectually well equipped to deal with cultural-property conundrums [particularly relevant to the Getty], and he gets extra points for having not only a scholarly but also a business background. He recently spoke out on National Public Radio against rampant museum expansion, as part of NPR's exploration of current museological issues, pegged to Philippe's imminent departure.

It's a myth, Potts told NPR, "that museums are hoarding in their basements these thousands of masterpieces that no one ever gets to see. It's a myth that they're all masterpieces. The core mission of the institution…is to collect, is to preserve, is to educate in less spectacular ways than the much-hyped exhibitions."

He expressed similar views in his October 2007 Washington Post opinion piece, Beware The Inexorable Drift Toward Populism. There he finessed the contradiction between his stated views and the Kimbell's planned Renzo Piano expansion [currently in construction] by saying, "In our case, it's to solve a particular problem: For more than half the year, we have three-quarters or more of our wonderful permanent collection in storage, because the space has to be given to visiting exhibitions."
Now let's see if two strong-willed museum leaders—Potts and Getty Trust president James Cuno—can make the Getty's problematic governance structure work, providing stability, at last, to this revolving-door directorship.