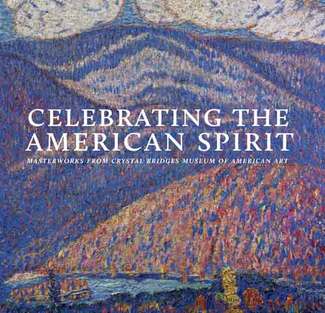 Hudson Hills Press logo
Cover image (from Hartley's "Hall of the Mountain King") of the collection highlights catalogue for Crystal Bridges Museum of American Art
In my June 16 CultureGrrl post about Alice Walton's Crystal Bridges Museum, I stated that Moshe Safdie's "wow" architecture (a work-in-progress when I visited Bentonville, AR, last May) could get the museum only so far. I wrote:
Crystal Bridges will rise or fall on its collection. No amount of grandiose architecture and daring feats of engineering (for both the museum facility and the landscape) can trump the as-yet-unknown depth, breadth and quality of the collection.
Now we know more, thanks to the highlights catalogue, Celebrating the American Spirit: Masterworks from Crystal Bridges Museum of American Art (also the title of the inaugural exhibition), recently issued by Hudson Hills Press (available through various online sources, but, strangely, not on the museum's own website).
Although the museum's director, Don Bacigalupi had tantalizingly told me that the collection would be "a revelation to visitors and maybe even a revelation to people in the field," it now looks like it won't be that much of a surprise to those who have already perused the group of about 70 previously announced works (missing for a while, but now back online).
Assuming that the 365-page, 151-work catalogue represents the quality and scope of the works in the collection (many of which do not actually belong to the museum, but are "promised gifts" from Walton), the holdings seem to be strong in certain areas but by no means a comprehensive survey. (This is, however, still a work-in-progress.) The collection appears to be very heavily weighted towards high-quality Hudson River School paintings—the specialty of Walton's art adviser and Crystal Bridges board member, John Wilmerding. As one might expect, it's a predominantly middle-of-the-road, conservative assemblage.
There's not much in the way of challenging abstract work, edgy pieces or recent contemporary trends. There's little in the way of sensuality, let alone nudity (the most notable exception being Benjamin West's "Cupid and Psyche," 1808). There are some great 18th-century paintings (Copley, Gilbert Stuart, Charles Willson Peale), some good American modernism (Hartley, O'Keeffe, Feininger, Demuth, Dove, Joseph Stella, Stuart Davis), a smattering of Pop. Don't even think about Minimalism. Why am I not surprised that there are two Will Barnets and one each by Andrew and Jamie Wyeth?
Although Bacigalupi had previously indicated to me that the inaugural installation would include major examples of Abstract Expressionism (not evident on the collection's website), the Museum of Modern Art has nothing to worry about. The highlights catalogue includes a small, very early (non-drip) Pollock, a small David Smith oil-on-board (a biomorphic abstraction of a cello player), two Hans Hofmanns and several works by second-generation AbEx-ers Joan Mitchell and Grace Hartigan. Don't look for de Kooning or Rothko.
There are a few offbeat choices, reflecting the quirky taste of the founder, who has a well known penchant for cute animals and strong women. As the museum's long-time curator, Chris Crosman, noted in his "Introduction to the Collection":
Crystal Bridges' approach to collecting is unabashedly populist.
This one has become something of a signature work for the museum: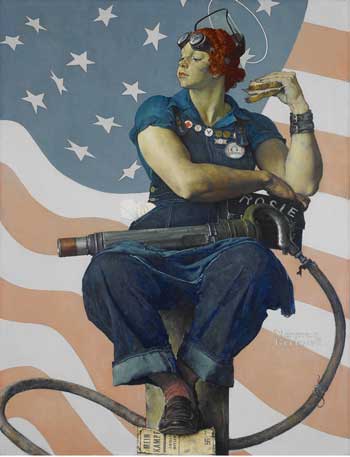 Norman Rockwell, "Rosie the Riveter," 1943
Image courtesy of Saturday Evening Post; Photo: Dwight Primiano
In many instances, the collection reminded me of another American art collection that I recently viewed—the McGlothlin Collection, promised (by bequest) to the Virginia Museum of Fine Arts, which I described as "somewhat quirky, with a number of fine works, but also quite a few that are not typical of the artists' most celebrated output."
This is partly a function of the collectors' individual tastes, but largely determined by what was still available on the market when they began to acquire. Walton didn't start in earnest (with the museum firmly in mind) until 2005 and she was undeniably late to the game: The days when a single collector could put together a top-quality, comprehensive collection of American art are likely behind us. With great financial resources and good advice, Walton did as well as she could and certainly created an important cultural resource for her native Arkansas.
As Bacigalupi observed in his for forward for the catalogue, "conventional wisdom would suggest the impossibility of starting a new museum from scratch in the 21st century." Alice has achieved that improbable goal, but calling her institution, "America's Next Great Museum" (Crystal Bridges' new advertising slogan) may be hyperbole.
A long list of those who have assisted in the birth of Crystal Bridges is acknowledged in the catalogue, but Robert Workman, Bacigalupi's predecessor (now director of the Flint Hills Discovery Center, Manhattan, KS), is unaccountably unmentioned.
But although he's missing, you don't have to be: You can now reserve timed tickets on the museum's website. But the "Buy Now" buttons should have been more accurately (and invitingly) be labeled, "Reserve Now," since admission is free.
I'll be going to Crystal Bridges soon after its Nov. 11 opening, if all goes according to plan. Although invited to this month's press preview, I declined (but perused all the handouts,
here
), because I was informed that neither the construction nor the installation would be complete. (I reported on last May's preview,
here
,
here
,
here
and
here
.)
My Crystal Bridges crystal ball tells me there's likely to be only one more visit to Bentonville in my future. I'm waiting to see Crystal Bridges in its full glory, serving its populist purpose.