The Crystal Bridges Museum of American Art has quietly launched a
completely revamped website, in conjunction with its launch today in the Bentonville, AR, of its membership drive.
Here's the card being proffered to "Original Members" who sign up at the tents in the town square (or online, for those of us who can't make it in person):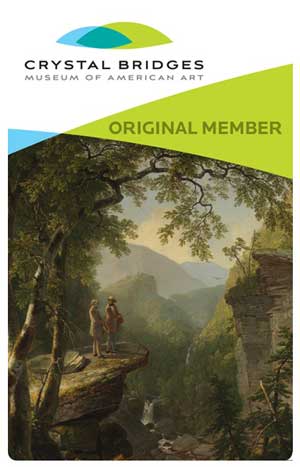 Eat your heart out, New York! Asher B. Durand's celebrated "Kindred Spirits," depicting Thomas Cole and William Cullen Bryant in the Catskill Mountains (and controversially sold in 2005 by the New York Public Library for a reported $35 million), is the new logo for Alice Walton's cultural oasis in the Ozarks.
But wait a minute! When they redesigned the website, they included lots of photos of the construction of the Moshe Safdie-designed pavilions, but they forgot the art!
On the collection portion of the site, where dozens of works were previously listed, with images, there are now a mere 20. (Some 400 works are to be included in the inaugural display, opening Nov. 11.) Interestingly, some of those now on the website are being shown for the first time, including two riotously colorful works—an Arshile Gorky…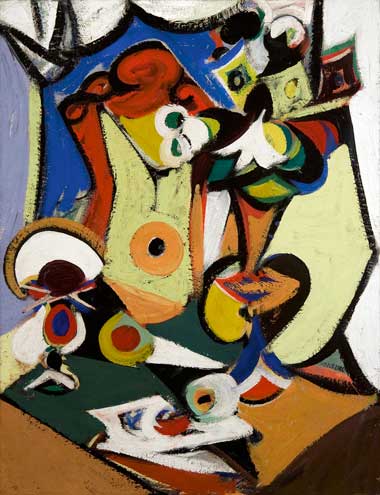 Gorky, "Composition (Still Life)," 1936-7
…and a Nick Cave: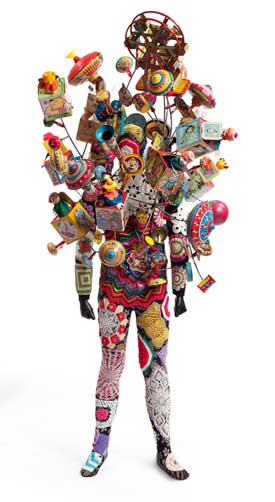 Cave, "Soundsuit," 2010
While you're wondering why Gilbert Stuart's "George Washington" has vanished, here's a job opportunity that is not for the faint-of-heart:
Wanna become the Director of Public Relations for Crystal Bridges Museum of American Art? Now you can! But please don't apply unless you possess "the ability to handle sensitive issues and situations with discretion."