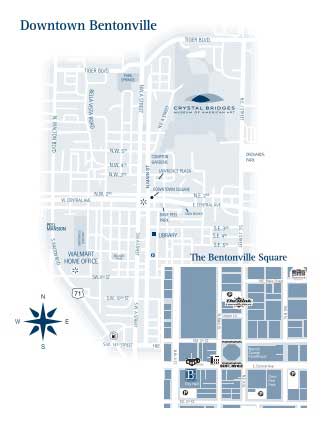 Crystal Bridges at top right of the map
In an official announcement, posted today, Crystal Bridges Museum of American Art reported that it netted 3,000 members since the July 1 start of its membership drive. As of this morning, the total was actually about 3,100, a spokesperson told me, adding that 1,434 of those had signed up on the museum's membership website. Others have been "faxing, mailing [and] e-mailing" membership requests, according to director Don Bacigalupi. So I'm not yet clear (although I've asked) on how many signed up in person at the tents set up around the museum's hometown of Bentonville, AR, during the drive's inaugural July 4th weekend.
In any event, the sprawling museum is expecting such a huge surge of members from around the country that it has decided to stay open for 24 hours on members' preview day, Nov. 9, when admission will be by timed ticket. Still no word, though, on whether the $800-million museum (and that's just the endowment from founder Alice Walton) will charge the general public an admission fee after the Nov. 11 opening, or whether members will be granted free admission.
But what about the mysterious disappearing collection, which largely vanished from the museum's recently relaunched, jazzed-up website? Sandy Edwards, the museum's deputy director for museum relations, told me this:
The website is in its first phase of the redesign. Over the next several
months, we will be returning the collection to the site—all with
additional interpretation….
…and maybe also with additional acquisitions? One of those, a contemporary work, was posted earlier today on the museum's News page, but has now mysteriously disappeared. This is all so frustrating! Come on, Alice. Show us what you've got!
Speaking of the museum's munificent benefactor, Edwards told me that the Wal-Mart heiress has granted interviews to Fortune magazine and CBS Sunday Morning (in addition to the NY Times and New Yorker magazine).
"At this time," Edwards told me, in response to my own request, "we do not think she will be available for
additional interviews prior to opening."
What, no time for CultureGrrl? Thankfully, CultureGrrl Repeat Donor 171 from Santa Monica had a moment to click my yellow button. On CultureGrrl Members Day, he'll be granted 24-hour access to my blog. Then again, so will you! Every day here in the blogosphere is a Members Day.
Pay whatever you wish, art-lings, but you must at least pay nothing.