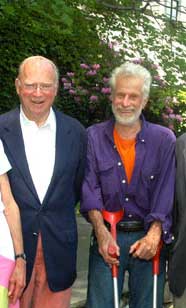 Tom Armstrong, left, and artist Mark di Suvero (whose work Tom showed at the Whitney), attending a 2008 luncheon at Storm King Art Center, Mountainville, NY
Photo: NY Social Diary
I feel I ought to write a proper appreciation of Thomas N. Armstrong III, the former director of the Whitney Museum, who died on Monday at age 78. It was under his leadership, from 1974 to 1990, when, for better or worse, this museum of American art became much more strongly associated with edgy contemporary work than with the historic icons that were the bedrock of its collection.
This next-new-thing vibe remains to this day, exemplified by the Whitney's plan to move from its Breuer building to the Renzo Piano-designed behemoth in the trendy Meatpacking District. The scruffy surroundings and wide-open interiors of the new Downtown Whitney appear more in sync with art of the future than with the Hoppers and Hartleys of the past.
My difficulty in writing an elegiac obit is that the first thing that comes to mind whenever I free-associate on the name "Tom Armstrong" is his acrimonious relationship with the late contemporary artworld heroine and feisty feminist icon, Marcia Tucker, whose reputation rose after she was bounced from her curatorship at the Whitney to establish the increasingly important, still vibrant New Museum. Armstrong's reputation suffered as a result of the Tucker contretemps and his publicly aired conflicts with the Whitney's board. It's fair to say, I think, that artworld reminiscences have been kinder to Tucker than to Armstrong.
As far as I can see, there's no mention on the Whitney's homepage (or elsewhere on its website) about Armstrong's passing, nor do I see anything on the website of the Warhol Museum, where he later served briefly as director. (Perhaps by the time you read this, tributes will be added to those sites.)
In comments for William Grimes' NY Times obit, the Whitney's current director, Adam Weinberg, focused on the undeniably important works that were added to the Whitney's collection during Tom's long tenure.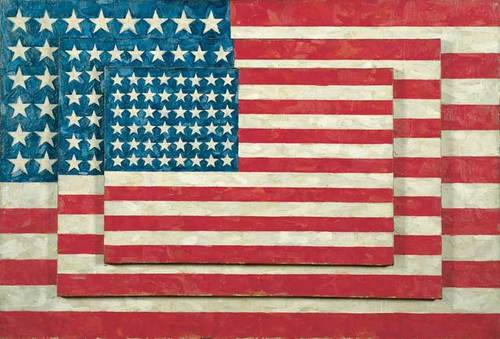 Jasper Johns, "Three Flags," 1958, purchased by the Whitney Museum under Tom Armstrong

There's one vivid remembrance that I have of Armstrong, which I previously mentioned here. It now has an ironic twist, due to recent musical-chair developments in the New York museum world:
At a museum directors' panel discussion that I attended some years ago, Armstrong, then at the Whitney, startlingly assailed the Metropolitan Museum's then director, Philippe de Montebello, for the Met's plans to ramp up its involvement in modern and contemporary art with the help of its new Lila Acheson Wallace
Wing.
"It's not your territory!" Armstrong growled, objecting to this encroachment on what Armstrong had claimed as his own museum's turf.
In a sense, Tom was right: The Met and contemporary art, under de Montebello, never seemed a comfortable fit. The irony is that the Whitney's building is soon to become, quite literally (if, perhaps, only temporarily), the Met's "territory" for contemporary art: If all goes according to plan, the Met will occupy the Breuer for at least eight years, when the Whitney decamps to its Piano digs in 2015.