There was much speechifying at today's "groundbreaking" for the Renzo Piano-designed Downtown Whitney, with the architect, Mayor Bloomberg, Whitney director Adam Weinberg, museum trustees and the Manhattan Borough President taking the podium. Piano lofted an all-white model of the building, calling it a "25,000-pound meteorite" (still looks like an ocean liner to me) that will alight next to the High Line: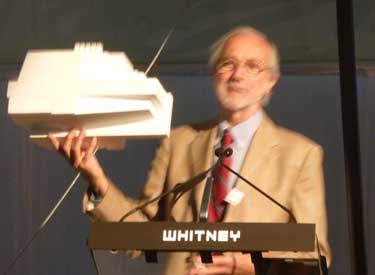 Today's so-called "groundbreaking" consisted of a performance enacted inside a large tent set up for the ceremony on the former site of the late, lamented Premier Veal (Lamb Too) building. "Breaking Ground" was an ingenious Whitney-commissioned piece by cutting-edge (literally, in this case) choreographer Elizabeth Streb, who stood beneath a barrel filled with
soil that torrentially descended upon her helmeted head after a rope was pulled to release the dirt.
Six dancers from her STREB Extreme Action Company heedlessly hurled themselves, one at a time, through a series of panes of glass, with loud crashes and shards flying towards (but not, one hopes, onto) the dignitaries in the front row. The large heap of dirt deposited on Streb and landing onstage was fitfully shoveled by the project's principles: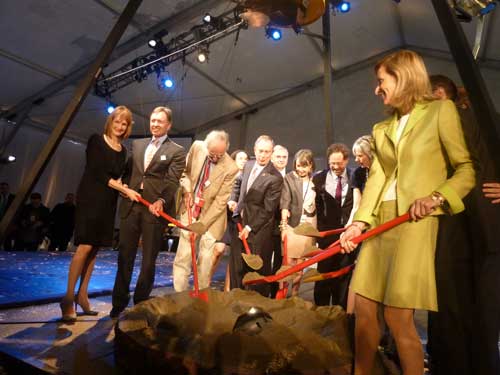 Front row, left to right: First Deputy Mayor Patricia Harris, Whitney co-chair Robert Hurst, Renzo Piano, Mayor Bloomberg, Whitney co-chair Brooke Garber Neidich, Adam Weinberg, Cultural Affairs Commissioner Kate Levin, City Planning Commission chair Amanda Burden
Notably absent was the museum's chairman emeritus and lead funder of the project, Leonard Lauder (also surprisingly missing from the press release), who, we were told, is recovering from surgery.
You can read the facts and figures about the project in the press release linked at the top of this post.
But first, relive with me the most interesting part of the program—the fly-through video of the new building, which at last gives us a pretty good idea of what we can look forward to, hopefully in 2015, by which time the Whitney hopes to have raised the remaining $212 million in its $720-million capital (and endowment) campaign. (For the math-challenged, $508 million been raised thus far.)
The press release is curiously silent on what the skin of the new building will consist of, but Piano's website says it is "clad in light gray enamel steel panels." Click the arrow and have a look around: