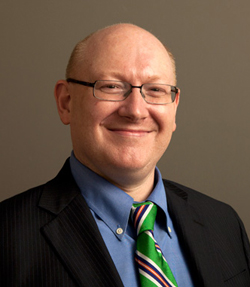 Michael Taylor, new director of the Hood Museum, Dartmouth
Michael Taylor is a lean, mean exhibition machine. (Well, at least the last part is true.)
During his time as curator of modern art at the Philadelphia Museum, he's been responsible for a big chunk of that institution's best received, most illuminating shows, which have always been more than mere crowd-pleasers, thanks to the probing scholarship that sheds new light on material and artists whom we thought we already knew. Among his rapid-fire recent triumphs: Philadelphia's acclaimed Gorky Retrospective, Picasso and the Avant-Garde in Paris, and (as co-curator) the majesterial Cézanne and Beyond.
So it can't be good news for Philadelphia that on Aug. 15, Taylor will step up and out, becoming director of the Hood Museum, Dartmouth College, where he succeeds Brian Kennedy, now director of the Toledo Museum.
Among his other accomplishments, Michael is the reigning curatorial rock star of CultureGrrl Videos: His discussion of Gorky's "The Artist and His Mother" ranks third among my audience's all-time video favorites, beaten only by Jeff Koons' studio assistant and, in the Number One spot, Alexander McQueen, whose viewership got a boost from my Huffington Post audience. (As an aside—after McQueen, I decided to take a break from posting with Huffington, after waiting in vain for a response to my plea for compensation, which was prompted by the Huff's $315-million payday from AOL. I'm not exactly striking; I'm sulking.)
Enough of me. Let's return to Michael, whose swansong in Philly is the fascinating, popular Paris Through the Window: Marc Chagall and His Circle (to July 10), drawn almost exclusively from the museum's own collection. I was particularly taken by Michael's revelation that some of Chagall's idiosyncratic imagery, which strikes viewers as strange and fanciful, is actually directly related to the nuances of the Yiddish language.
Although not himself Jewish, Taylor has clearly absorbed a lot about the language, holidays and culture. He also revealed to me, when I asked about his roots, that one of his grandmothers (maiden name, Rose Goldberg) spoke Yiddish. So maybe it's in his blood!
One of the many "who knew?" insights in the show is that the upside-down head in Chagall's well-known painting of a tipsy poet, "Half-Past Three," is a visual translation of the Yiddish term, "fardreiter kop," which translates literally as "turned head." To me, its commonly understood meaning is, "mixed up, befuddled," but Michael's label intensifies that definition to "a state of giddiness or disorientation, bordering on madness":

Chagall, "Half-Past Three (The Poet)," 1911, Philadelphia Museum
I've never been to the Hood, and I'm not sure when or whether I'll get to attend one of Taylor's exhibition tours when he moves up north. So while we still can, lets give Michael what could be his final star turn in a CultureGrrl Video—a clip that I've been meaning to post ever since I attended the Chagall press preview last February.
In my video, Taylor names many of the well-known Paris emigré artists who French-ified their very Jewish-sounding names. (Who knew that "Pascin" was an anagram for "Pincas"?) He describes the strong influence of Léon Bakst (aka Lev Rosenberg) on Chagall's work. (In the background, you'll hear the strains of music from the Ballets Russes, for which Bakst worked as a designer.)
You'll also hear Taylor mentioning La Ruche—the artists' studio complex where Chagall lived and worked. The angled walls in a central section of the exhibition attempt to evoke the distinctive interior of that cylindrical hive of creativity.
At the end, Taylor discusses his exhibition's "act of retrieval" for Chagall's best friend, Moïse Kogan—an artist virtually unknown today, for a chilling reason that Taylor uncovered during his research.
Here's Kogan's demure yet sensual terracotta, which Michael discusses in the video:

Moïse Kogan, "Kneeling Woman, 1912, Philadelphia Museum

And here's the video:
At the end of the press tour, I chatteed with Taylor about the elephant NOT in the room—the later works by the artist, which were popular with Jews of my parents' generation but are widely regarded by curators and critics as lightweight trifles, lacking his earlier verve and inventiveness. (The show ends in 1943; Chagall had 42 years yet to live.)
Here's what he said:
I like sugar in my tea, but not seven lumps. I think he gets a little sweet and over-sentimental. I think he gets very repetitive….Unfortunately, he was a victim of his own success. I think he became a little detached from what had made him a great artist. He's at his best when he's feeding off of others.

I looked at a lot of late works. We had access to them. This could have been Chagall up until he died. It doesn't move me, and when I do shows, I have to really feel engaged with the material to bring it to life.