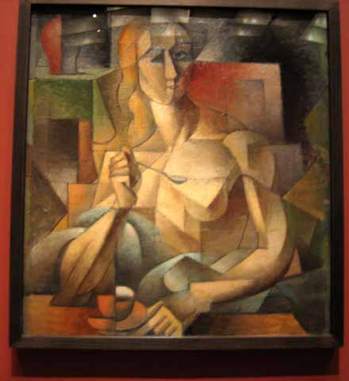 Jean Metzinger, "Tea Time," 1911
In the course of my posts on the Whitney Museum's current survey of new, I promised to take you to the Philadelphia Museum of Art's evocation of a past exhibition of the new—the 1912 Salon d'Automne in Paris. That installation is the centerpiece of the museum's current
permanent-collection show, Picasso
and the Avant-Garde in Paris (to Apr. 25).
But there is no Picasso to be found in the spacious, densely hung salon gallery that has been granted pride-of-place in this show. That's because (as you will hear curator Michael Taylor explain in the CultureGrrl Video below) Picasso's and Braque's dealer, Daniel-Henry Kahnweiler, forbade them to show at the salons. He correctly believed that the critics would take great delight in mocking Cubism, and he wanted his artists to steer clear of that. (Should today's artists similarly eschew getting chewed up in Whitney Biennials?)
The faux salon is yet another demonstration of Taylor's interest in giving visitors a you-are-there feeling through his displays from earlier eras. The idiosyncratically stylized room that was at the heart of his recent Arshile Gorky exhibition was also meant to evoke the manner in which those paintings—the most celebrated of that artist's oeuvre—were originally shown.
Now, in Philly's "Picasso…" show, we have this richly-hued room, mixing some leading works (most notably, Duchamp's "Nude Descending a Staircase," which you will hear Taylor discuss) with lots of also-rans. "Salon Cubism" (typified by the wacky portrait at the top of this post, famous in
its day as "the Mona Lisa of Cubism") was more colorful and visually accessible than the more abstruse, subtle, pioneering compositions of Picasso and Braque:
One of Taylor's favorite objects in this room is the circular pouf in the middle, titled "Sigmund," commissioned for this installation from Virgil Marti. Despite the up-and-down quality of the art, the curator suggested that he'd like his salon to remain as a permanent installation, even after the rest of the show comes down.
During our brief conversation after the press tour, I learned that he really meant it:
Rosenbaum: You weren't serious about that keeping that Salon, were you?

Taylor: I am! I think it's amazing.

Rosenbaum: Can you do that?


Taylor: I have to talk to the director.

All of this brings to mind a fascinating historical study of landmark art exhibitions published in 2008 by Bruce Altshuler, director of New York University's graduate program in museum studies: Salon to Biennial: Exhibitions that Made Art History, Volume I: 1863-1959 (eventually to be followed by Volume II). This voluminous compendium of photos, exhibition descriptions and contemporary reviews (the last of
special interest to me) from 24 definitive displays ranges from the 1863 "Salon des Refusés" in Paris to Dorothy Miller's
1959 "New American Painting" show at the Museum of Modern Art in New
York. It includes a section on Paris' 1912 "Salon de la Section d'Or."
Several of the 1912 "Section d'Or" works are gathered in the current Philadelphia salon installation. Below is Michael Taylor describing the controversies over the 1912 salons. (Early in the clip, you'll see him performing an excellent imitation of a tail-swishing donkey.)