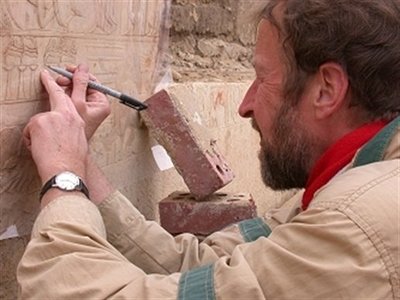 Maarten Raven, field director, National Museum of Antiquities, Leiden
I was away traveling when I wrote this post, which refers to the International Council of Museums' preliminary report, dated Feb. 3, on the antiquities situation in Egypt. While preparing that post in my hotel room, I was surprised to discover that the online link by which I and other writers had accessed ICOM's report was no longer functional.
Now I'm back at my home computer, to which I had previously downloaded the complete seven-page ICOM document. You can read it in full, here.
ICOM noted that the accounts that have been circulating about the situation in Saqqara have been "very contradictory." On the good side, for example: "Thieves were unable to break into the main storage depot, which contains the site's most valuable items and is guarded by steel doors." On the bad side: "Gangs have been digging day and night attempting to find unopened tombs."
There's much more on both sides in ICOM's preliminary report, which begins by acknowledging that its information (which also touches on many other Egyptian sites and museums) "could not be officially confirmed so far." But Zahi Hawass, Egypt's Minister of Antiquities, did give the report his qualified endorsement.
In other Saqqara news: A Radio Netherlands Worldwide report [via] on looting at that ancient burial site includes comments from Maarten Raven, a Dutch archaeologist who first began working on Saqqara's excavations in 1975. He had been about to return when the current uprising began. (His account, published on Feb. 1, is not an eyewitness report, as is the message from a French archaeologist working in Saqqara that I published here on Feb. 4.)
Raven described what he had learned from his sources about "total anarchy" at Saqqara's archaeological sites. He added:
The people of Egypt have been kept in the dark….I've always been afraid this would happen. All we can do now is look on and weep.