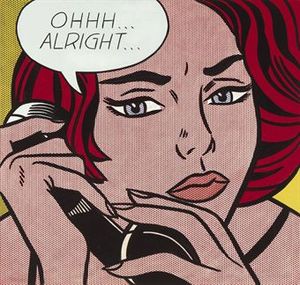 Amy Cappellazzo, talking to a recalcitrant bidder?
No, its Roy Lichtenstein's "Ohhh…Alright…," 1964
Auctioneer Christopher Burge checked his watch as he descended from the podium after tonight's contemporary sale at Christie's and saw that he had clocked a speedy two hours for his 75-lot marathon—an average of about 1.6 minutes between hammer thwacks.
It was a brisk, efficient moving of merchandise with solid results but few fireworks. Christie's self-congratulatory claim (in a press release dispatched an hour before the sale had concluded) that it had "made history" tonight seemed more than a little exaggerated.
The "history" it was referring to was the auction record for a Lichtenstein—$42.64 million for the painting pictured above, which casino mogul Steve Wynn is thought to have tried to sell through dealers for considerably more—about $50 million—a few months previously (as reported in Carol Vogel's pre-auction report for the NY Times). The painting's $39-million hammer price fell short of its $40-million presale estimate, provoking not applause but murmurs.
The big lots were front-loaded in this overstuffed sale. Although I "attended" only virtually, through Christie's live webcast, I could imagine that soon after Lot 23, a Koons "Balloon Flower (Blue)," had found its $16.88-million buyer (L & M Arts, the New York gallery), many of the salesroom attendees had found the exits. (The Koons' seller was the Daimler Art Collection of Mercedes-Benz fame.)
The second-highest price, achieved just three lots after the Lichtenstein—$23.88 million for Warhol's "Big Campbell's Soup Can with Can Opener (Vegetable)," 1962—failed to excite, with a $21.25-million hammer price that fell considerably short of the $30-million low estimate.
The truly breakout performer in the sale was non-superstar Richard Lindner, whose previous auction record was broken three times by paintings from the group of 14 works consigned from the collection of the late Max Palevsky. The ultimate Lindner record-holder was "West 48th Street," 1964, at $1.02 million. [CORRECTION: In my originally posted version, I misstated which was the highest-priced of the sale's Lindners.]
Perennial favorite Alexander Calder, with five works in the sale that trounced their estimates (and one that didn't), also achieved a new auction record—$6.35 million for "Red Curlicue," 1973, which had been acquired by Palevsky the year after its creation from Perls Galleries, Calder's longtime dealer.
The hammer total for the auction was $238.89 million, at the low end of the $236.98-345.82 million presale estimate. With buyer's premium, the sale totaled $272.87 million. Only five of the 75 lots fail to sell, but three of them—by Rothko, Johns and Stella—were relatively expensive failures, doing some damage to the sold percentage by dollar: It was 92%—not as spectacular as the 97% at Sotheby's the night before, but still a highly successful showing. With 21 more lots than Sotheby's, Christie's bested its rival's total by about $50 million. Christie's sale was 93% sold by lot, compared to Sotheby's 91%.
In all, both houses hit their marks and proved their point: The market for contemporary art by well established names appears to be in recovery.
For Christie's complete price list, go here.