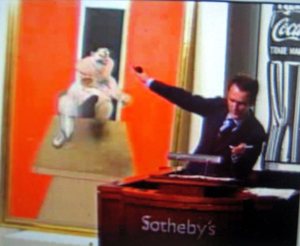 Auctioneer Tobias Meyer, caught between a $14.08-million Bacon and a $35.36-million Warhol
Should Michael Taylor get a commission?
It seems likely that tonight's record at Sotheby's for a work on paper by Arshile Gorky—$3.67 million ($3.2 million hammer price, against an estimate of only $800,000 to $1.2 million) owes something to the spurt of interest in such works created by the Philadelphia Museum curator's landmark Gorky retrospective. "Housatonic," 1943, an ink-and-crayon drawing, wasn't in Philly's show, but did have an extensive museum exhibition record.
Likewise, it's possible that Willem de Kooning's "Montauk III" climbed to a hammer price of $8.8 million (against a $5-7 million estimate) in part on the strength of its having been requested by John Elderfield for his 2011 retrospective for the artist at the Museum of Modern Art. Similarly, the estimate-defying record price of 48.8-million last week at Christie's for a posthumous cast of one of Matisse's monumental bronze reliefs of a woman's back may have owed something to the prominence of such works (albeit lifetime casts, not posthumous) in MoMA's recent Matisse show, co-curated by Elderfield.
The highest price at Sotheby's contemporary art sale tonight came for Warhol's nearly seven-foot-high "Coca-Cola," 1962, partially pictured above, whose bubbly $31.5-million hammer price ($35.36 million with buyers premium) easily beat its $20-25 million estimate. That couldn't come near the $63.3 million (including buyers premium) lavished Monday night at Phillips de Pury & Co. on a Liz Taylor painting by Warhol from the same year.
Monster prices for Warhol are getting so routine! I'd rather focus on the $2.32-million record auction price at Sotheby's for a 2004 Julie Mehretu. And what about the wild response that greeted a spider sculpture by Louise Bourgeois, who died earlier this year? Showing no patience for the $600,000-800,000 presale estimate, one arachnophile bumped the bidding in one fell swoop from $400,000 to $1.1 million. The price rapidly climbed to $3.1 million ($3.55 million with premium).
In all, Sotheby's sale brought a hammer total of $195.15 million ($222.45 million with premium), against the hammer-price presale estimate of $151.7-214.4 million. It was a strong result, but cannot be accurately described as "exceeding the high estimate," as Sotheby's claims in its press release (not online at this writing). The estimate refers to hammer price and must be compared with the hammer total of $195.15 million—within the range of the presale estimate. Have you ever heard me say this before?
On the same grounds, it is not accurate to say (as the press release does) that "almost half the sold lots brought prices in excess of their high estimates." In truth, only 30% did. Isn't that good enough?
Only five of the 54 works in the sale failed to find buyers. None of the buy-ins were among the highest estimated works, so the auction was a whopping 97.1% sold by dollar, 90.7% sold by lot. There were five auction records for artists—four with relatively brief auction histories but one market veteran—Larry Rivers at $1.14 million.
You can find the complete list of prices (including buyers premium) here.