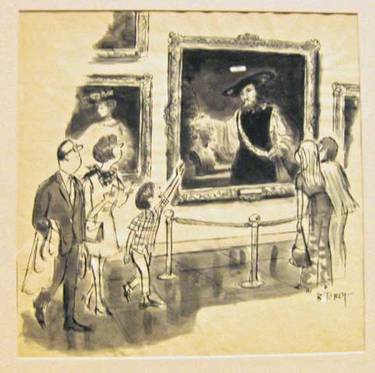 1970 cartoon by Barney Tobey for the New Yorker magazine (featuring a famous Metropolitan Museum Rembrandt), on display in the Met's current exhibition, "Italian Old Master Drawings from the Tobey Collection" (Cartoon caption: "Hey, look! That jigsaw puzzle you gave me last Christmas!")
Our first CultureChat was great fun. Let's do it again, shall we?
This Thursday, July 8, at 3:30 p.m., we'll tackle our first hot-button topic—the rewards and pitfalls of single-collector exhibitions at nonprofit museums.
Dakis has recently left the New Museum. The Metropolitan Museum is currently hosting a somewhat disjointed show of the Tobey Collection of old master drawings. Unmentioned in the online press release is the exhibition's array of decidedly non-old master cartoons about art, created for the New Yorker magazine by Barney Tobey, father of the exhibition's eponymous collector, David Tobey. They're worth a giggle, but they don't belong there.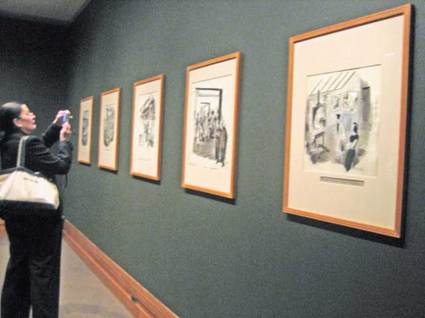 Some of the Barney Tobey cartoons at the Met (ubiquitous photographer Jill Krementz on the left),
On view at the Met simultaneously with the Tobey show, until the end of last month, was another single-collector exhibition—Contemporary Aboriginal Painting from Australia ("drawn from a private collection [unidentified] in the U.S.").
The Met was, for a long time, leery of mounting single-collector exhibitions of works not promised to the museum, having been burned in 1973 by Allen Funt of "Candid Camera" fame. In spring of that year, the Met show mounted a show of 35 paintings from Funt's collection, by Victorian
artist Sir Lawrence Alma-Tadema. Funt sold those works at Sotheby's, London, in November of the same year, with their value enhanced by the Met's imprimatur.
University museums are particularly susceptible to single-collector shows, especially when the lenders are alums. Yale University is currently showing Italian old master paintings from the collection of New York mega-dealer Richard Feigen (Class of 1952), who in January 2009 sold a Turner painting at Sotheby's—directly after it came off the walls of the Met's traveling Turner retropective:

Turner, "The Temple of Jupiter Panellenius," 1816—$12.96 million at Sotheby's, New York, January 2009; shown at the Met, July-September 2008
Notwithstanding Funt's punt, my views on single-collector shows are nuanced: I'm not unequivocally opposed to single-collector shows, but I think they must be governed by stringent guidelines: They need to be done sparingly (if at all), for strongly compelling reasons and with strict rules about the show's financial sponsorship and about non-exploitation of the museum for market-related purposes. Most importantly, there needs to be complete transparency about all this.
What's your take? Let's consider these complexities together in the next live CultureChat—my instant-message, shoot-from-the-keyboard discussion with readers, here on CultureGrrl.
Technology permitting, we'll chat Thursday, July 8, at 3:30 p.m. If we get a lively discussion, more hot-button topics will follow. I'm hoping that some of my many distinguished readers from the museum profession will consider chiming in, even if it's under an assumed nom de chat. ("Chat"? French feline? Maybe you can dub yourself "Museum Cats"!)