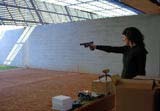 Emily Jacir takes aim, misses the mark
Emily Jacir's work has always moved me with its understated, poetically symbolic approach to empathetically documenting the plight of Palestinians. In my Wall Street Journal review of the 2004 Whitney Biennial (which displayed Where We Come From), I included her among three artists whom I particularly admired. And in my CultureGrrl review of the Brooklyn Museum's "Global Feminisms" show, I again singled out Jacir's work, Crossing Surda, for praise and gave this account of my personal encounter with the artist herself:
Because Jacir's works are so powerfully subtle in limning the
difficult conditions endured by Palestinians in Israel, I was taken
aback by an uncharacteristically contentious quote on the wall text
accompanying her piece: She asserted that "all people, including the
disabled, the elderly and children, must walk distances as far as two
kilometers, depending on decisions of the Israeli army," who "shoot
live ammunition" when they "decide that there should be no movement on
the road."

As it happened, I encountered the artist by chance at the press
preview, and learned that she had not wanted that quote to appear. She
told me that her comments hadn't come "from a place of anger." The
intention of the piece, created with a hidden camera, was not
originally to produce art, but to record her experience, she said. (She
later e-mailed to let me know that the offending quote had been
expunged.)
So I was surprised and even incensed when, before I had myself seen the Guggenheim's installation of "Material for a Film (performance)" and "Material for a Film (2004- )," I read Ken Johnson's unfavorable review in the NY Times of the current Jacir show at the Guggenheim, which ended by saying that "the problem [with the exhibition] is with her unexceptional artistry, not her politics."
I don't think that "unexceptional artistry" is the problem, but this is definitely a problematic show—not because of its politics (artists are entitled to their views), but because of Jacir's unsatifying realization of a project quite different in character, tone and political ambition from the works I had previously admired. I left feeling manipulated, not illuminated. Jacir's approach here has morphed from poetic to polemic. She has moved from documenting what she knows to engaging the broader geopolitical realm. She's not yet up to that task.
Jacir tries to elevate Wael Zuaiter, a culturally sophisticated political activist living in Rome, to the status of holy Palestinian martyr, allegedly gunned down in October 1972 by vengeful Israelis in retaliation for the massacre of Israeli athletes at the 1972 Munich Olympics. The first image encountered at the entrance to the show is the (uncredited) UPI news photo of Zuaiter in a pool of blood.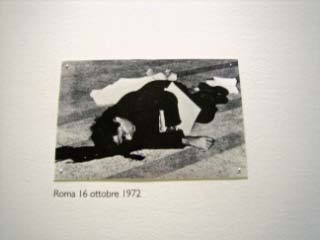 Through photos, personal artifacts and quotes from those who knew him, the exhibition portrays Zuaiter as a lovable, peace-loving aficionado of Mahler and Dante, who moved in cultural circles that included Italian writer Alberto Moravia. It even shows a fleeting "Pink Panther" movie clip of him in a bit part as a waiter at an event attended by the character played by David Niven.
But an Oct. 18, 1972 NY Times account of his murder said that the Beirut press agency of Al Fatah, the Palestinian guerilla organization, had identified Zuaiter as "its representative for Italy." A Times article the following day reported that Rome police had described Zuaiter as a "Libyan Embassy clerk said to have been the top agent in Italy of Al Fatah."
This exhibition resulted from Jacir's having won the Guggenheim's biennial Hugo Boss Prize, and the catalogue for all the shortlisted artists tells us that Zuaiter was "mistakenly caught in the blowback" from the Munich massacre. The exhibition's introductory wall text hedges a bit, saying that he was "never conclusively linked" to the Palestinian militant group Black September that was associated with the killings.
Whoever he was and whatever he did or did not do as a political operative, the Zuaiter of the exhibition remains an enigma, despite Jacir's earnest, exhaustive efforts to sanctify him. I, like the artist, was moved by the fact that one of the fusillade of bullets fired at the victim pierced his copy of "One Thousand and One Nights," which he had hoped to translate from Arabic to Italian.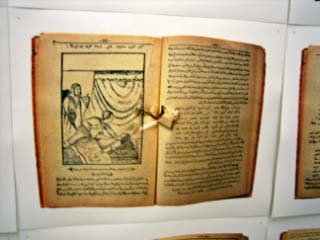 One of Jacir's photos of the bullet-riven pages from Zuaiter's copy of "One Thousand and One Nights"
I was also moved by her sublimation of grief and rage—firing a bullet into each of 1000 blank books, arrayed in "a memorial to untold
stories":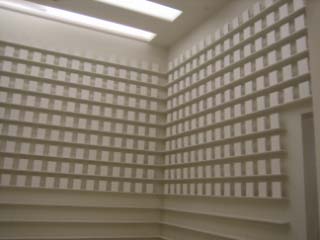 Had the show consisted of her wall of photos of Zuaiter's bullet-pierced pages and the roomful of bullet-pocked blank books, as well as her photos that document her dead hero's former haunts, the edited exhibition would have provided a more powerful, less problematic testament.
As it is, it's unconvincing, except, perhaps to those who enter the gallery with strong anti-Israel emotions. Viewers are particularly shortchanged by the show's failure to provide a translation for a key document, displayed just outside the entrance to the blank-book memorial. This may have been the truest testament of the Palestinian advocate who was said to have suspected before his death that he was a marked man: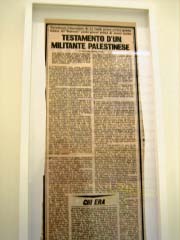 This is a long article, posthumously published by the Italian weekly, L'Expresso, that Zuaiter had written two or three weeks before his murder.
Its title: "Testament of a Militant Palestinian."