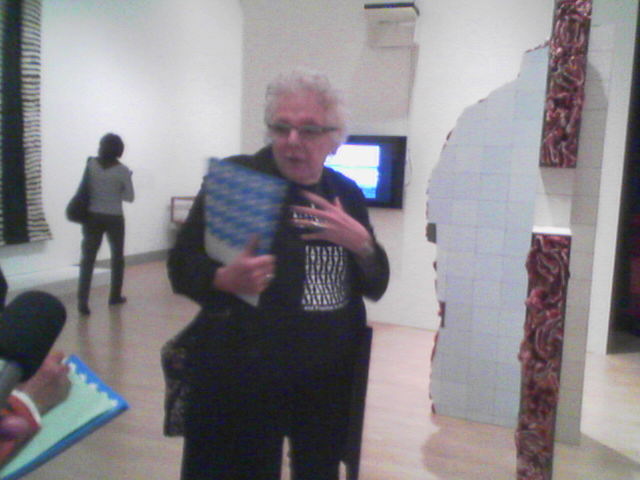 Linda Nochlin at the "Global Feminisms" Press Preview
At a time when the Feminist Movement is struggling for acknowledgment, if not allegiance, from the high-achieving young women who have benefited from it, along comes the new Elizabeth A. Sackler Center for Feminist Art at the Brooklyn Museum, trying to perk up that drooping "ism" for the 21st century through its inaugural exhibition, "Global Feminisms." The show excludes the founding mothers of feminist art in favor of works created no earlier than 1990 by artists born after 1960.
It was curated by that founding mother of feminist art scholarship, Linda Nochlin (above), as well as the curator in charge of the new center, Maura Reilly. The center also encompasses a permanent installation of Judy Chicago's "The Dinner Party" and rotating shows related to Chicago's iconic work, displayed in the new Herstory Gallery, which draws on works from the permanent collection.
Global Feminisms, to July 1. will be followed by "Global Feminisms: Phase 2," Aug. 3-Feb. 3, featuring a smaller selection of works in a smaller space. (The current show overflowed into 10,000 square feet of regular museum space, beyond the 8,300-square-foot Sackler Center.)
The current Global Feminisms show is a grab-bag of media and messages, politically correct in its global diversity but lacking a central guiding curatorial intelligence that might have made it something more empowering than a let-your-hair-down exercise in international consciousness raising. Raising questions about disparities in artistic quality in this context seems somehow besides the point.
But it IS worth raising questions about curatorial assumptions, as expressed in wall texts such as:
Global Feminisms artists…prefer to explore lesbian motherhood, primate wet-nurses, male pregnancy, the dark underbelly of childhood, cyber-feminist marriages, honeymoons without husbands and seductive tombstones.
Gee, I guess that leaves ME out! (For those as puzzled as I was, "cyber-feminist marriages" refers to Tanja Ostojic's "Looking for a Husband with an E.U. Passport.")
The fact that feminism is no longer (to my regret) a movement with much momentum is demonstrated by Brooklyn's difficulty in finding other venues for the show. So far, it's come up with just one: the Davis Museum and Cultural Center at Wellesley, the women's college, where it will appear Sept. 19-Dec. 9.
There are many individual works to admire, of which I will single out two. Both are videos in a show so video-intense that you'd better plan to camp out in the Sackler Center for the next few weeks if you want to take it all in (not that I'm recommending this).
The hit of the show, judging from my own reaction and the intense absorption registering strongly on the faces of the jaded press, was Tracey Moffatt's "Love," a montage of battle-of-the-sexes scenes in classic movies, ranging sequentially from romantic clinches to humorous spats to brutal physical violence. With its hilarious surprise ending, it was, hands down, wittiest-in-show.
I was also absorbed in Emily Jacir's somber video (not that I could stay for its more than two hours of footage), "Crossing Surda (A Record of Going to and from Work)," which documents her repeated treks, over several days, through congested Israeli checkpoints, on her way to teaching at a university.
Because Jacir's works are so powerfully subtle in limning the difficult conditions endured by Palestinians in Israel, I was taken aback by an uncharacteristically contentious quote on the wall text accompanying her piece: She asserted that "all people, including the disabled, the elderly and children, must walk distances as far as two kilometers, depending on decisions of the Israeli army," who "shoot live ammunition" when they "decide that there should be no movement on the road."
As it happened, I encountered the artist by chance at the press preview, and learned that she had not wanted that quote to appear. She told me that her comments hadn't come "from a place of anger." The intention of the piece, created with a hidden camera, was not originally to produce art, but to record her experience, she said. (She later e-mailed to let me know that the offending quote had been expunged.)
While we talked, she paused in front of a video by Israeli artist Sigalit Landau, saying that it had particularly moved her. It records Landau standing nude on a beach, using a circle of barbed wire as a hula hoop. Jacir immediately recognized the peaceful Tel Aviv site and responded to what she regarded as the piece's military reference. (Landau had earlier told those of us on the press tour that the barbed wire also alluded to Nazi concentration camps.) This was an instance, which I was fortunate to witness, in which the exhibition created a common bond of sisterhood across formidable barriers.
Finally, the show's not-so-grand finale: During the press tour, curator Maura Reilly said she had "a highlight" for us in the last gallery. This turned out to be "Room for Isolation and Restraint" by Priscilla Monge, a cubicle lined floor-to-ceiling with sanitary napkins, giving new meaning to the term, "padded cell." Venture inside and shut the door, if you dare.
Is this the last word on the feminine condition?