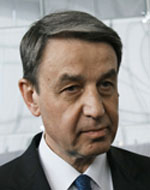 Alexander Avdeyev, recently named culture minister of the Russian Federation
[Part I is here.]
Proponents of the idea of a cabinet-level Secretary of Culture point out that foreign culture ministers currently have no counterpart in the U.S.
There's good reason for that.
Many foreign countries have a tradition of substantial government subsidies for cultural institutions. When your government pays the culture bills, you need the oversight of a government agency. But there are big tradeoffs for being largely dependent on government handouts—not only the specter of government interference but also the sleepy complacency that comes from not having to make a strong case to outside funders.
The nimble American model of multiple income streams, not the lumbering European tradition of large-scale government subsidies, is the wave of the future—hence the news reported Tuesday by Farah Nayeri of Bloomberg that the Louvre is becoming "the first French museum to establish an
endowment," using "the 175 million
euros ($230 million) it received to set up an Abu Dhabi offshoot."
A cabinet-level U.S. Department of the Arts would be a culture ministry without a cause. Our arts institutions are not going to get the kind of subsidies that have been common in Europe…nor should they seek them. Without a substantial financial underpinning, a ministry of culture would be added bureaucracy without adequate benefit.