Those of you who read the online version of my piece, Krasner at Her Unknown Best, published on the "Leisure & Arts" page of today's Wall Street Journal, must be scratching your heads at this garish cartoon image that accompanied the piece on the web: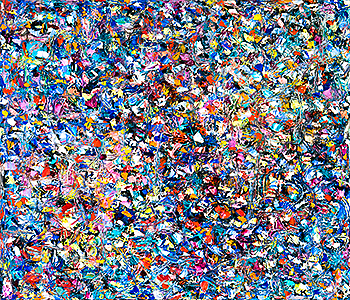 Lee Krasner, "Shellflower," 1947, private collection, New York
Then again, if you saw the image in the hard copy, on Page D7, you're REALLY scratching you head. The painting is reproduced there in black-and-white, with a caption describing the "vibrantly colored 'Shellflower,'" which is "animated by thick, small dollops of brightly hued pigments." I refer you to the front page of the "Personal Journal" section, which does include a decent thumbnail image of the work in color.
The photo of the identical painting that issued from my own camera (which I published in my
CultureGrrl
post
about my recent visit to the Pollock-Krasner House) was duller and blurrier than the above digital image, but gives you a better idea of the look of the painting: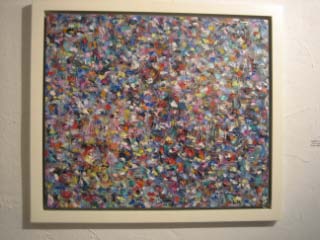 All of which goes to show the enormous limitations of viewing oil-on-canvas on computers.
The Pollock-Krasner House celebrates Lee's centenary not only with its laudable exhibition of her "Little Image" paintings (reviewed in my WSJ piece), but also in some more frivolous ways.
Although the married painters had no offspring, and although you may not be able to afford their art, you CAN easily afford an "offspring" of a Krasner plant, for sale at their house: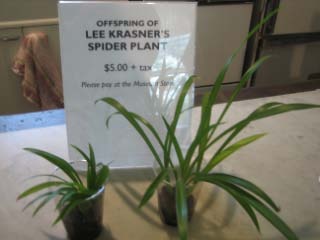 And as if viewing authentic Krasners weren't enough, you can also view this almost-Krasner—a copy of an untitled work from 1939-40, painted by
Margaret Von Biesen
—which had a bit part in the 1999 "Pollock" film that starred the great
Ed Harris
channeling the volatile Abstract Expressionist and
Marcia Gay Harden
as his long-suffering wife. That film figured prominently not only in the official tour given at the Pollock-Krasner House, but also in the conversation of the visitors: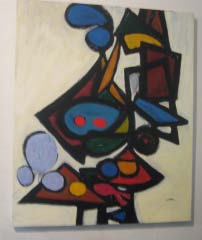 And here's my photo of a photo of the original painting, exhibited beside the copy (got that?):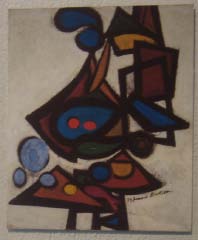 Here's the home in Springs, NY, where Krasner created her "Little Image" paintings: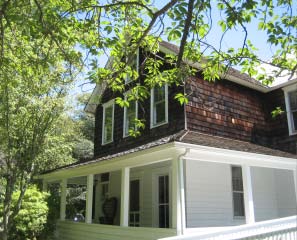 And here's the modest barn out back, converted into a studio, where Pollock up-ended art history with his "poured" (or "dripped") masterpieces: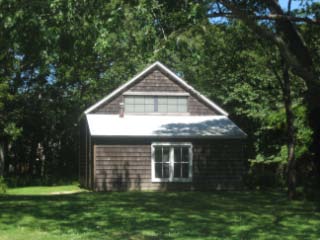 It is perhaps a measure of these two artists' relative repute that the Parrish Art Museum in nearby Southampton sells in its shop five different titles on Pollock but not a single one devoted to that other distinguished local painter—his overshadowed wife: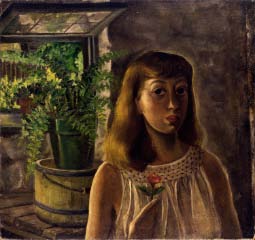 Lee Krasner, "Self-portrait," ca. 1929, Metropolitan Museum of Art
An early work, the above self-portrait predates the "Little Image" paintings of 1946-50, but is also currently on display at the Pollock-Krasner House in connection with its "Little Image Paintings" show, to Oct. 31.