Installation shot of "Lee Krasner: Little Image Paintings" at the Pollock-Krasner House
I finally made the pilgrimage to the Pollock–Krasner House and Studio in The Springs, NY, just a week after the opening of a great focus exhibition at the house: "Lee Krasner: Little Image Paintings, 1946-1950″ (to Oct. 31), organized by Helen Harrison (seated above), director of the Abstract Expressionist shrine, on the occasion of Krasner's centennial year. (The artist and widow of Jackson Pollock died in 1984.)
This intimate show of just nine works, one-third of the known surviving paintings in this series, gave me a greater appreciation of this overshadowed artist than the many displays giving pride of place and space to Krasner's large-scale, later works that too often come off as wan wannabe Pollocks. (The show also contains a Krasner-created round table from the same period, shown in the living room, above, and what is thought to be her earliest self-portrait, dated 1929.)
The paintings now displayed in Springs are intense, dense gems, some painted in the very room in which they are now displayed—the couple's living room. Others were painted in a small upstairs bedroom. Apartment-sized rather than loft-sized, they vary from all-over paintings reminiscent of Pollock but with their own coloristic pizzazz, to others that have been called "calligraphic" but are more pictographic. Krasner seems to be experimenting in these small formats, but all are highly finished, fully conceived works.
The Krasner show of what may well be her best work was a revelation, but the greatest thrill was donning foam-bottomed booties and treading on the floor in the sacred studio where Pollock flung and slung his landmark masterpieces, including "One," "Autumn Rhythm," "Convergence," "Blue Poles," ghosts of which are visible underfoot. I had seen the full-scale re-creation of Pollock's studio at the Museum of Modern Art's brilliantly illuminating 1998 Pollock retrospective, curated by the late Kirk Varnedoe with Pepe Karmel, but authenticity is all (and you couldn't walk on that copy). Krasner's splatters are on the studio's wall where she labored over her larger canvases after Pollock's death.
Strangely, I couldn't find an online link for this show on the Pollock-Krasner House's website, maintained by Stony Brook University, which is also administrator (through its foundation) of this National Historic Landmark artists' site. But below are photos of some of the works in the exhibition: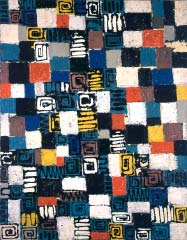 "Untitled," 1949, Pollock-Krasner Foundation, courtesy of Robert Miller Gallery, NY—one of the pictographic paintings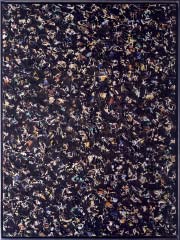 "Untitled," 1947, Mr. and Mrs. Eugene Thaw
(the dealer and co-editor of the Pollock catalogue raisonné)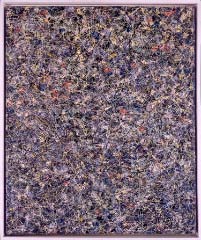 "Untitled," 1948, Metropolitan Museum of Art. Visitors kept mistaking this for a Pollock, because it was composed of skeins, not blobs.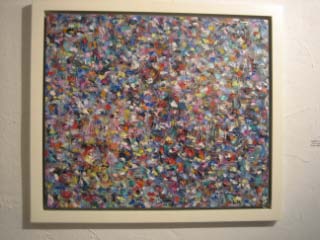 "Shellflowers," 1947, private collection, New York: This wasn't on the publicity CD, so you'll have to put up with my amateur photo. Richly impastoed and ravishingly colored, it found its 3D counterpart in this: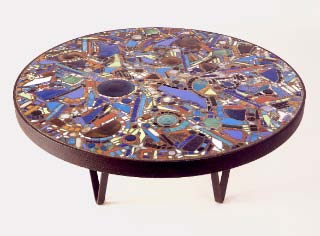 Mosaic table, 1947, Jason McCoy (the New York dealer and Pollock's nephew)