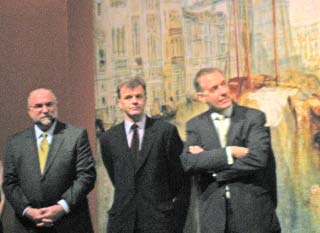 Gary Tinterow, right, with his curatorial cohorts at the Met's Turner press preview
This tribute is not much of a consolation prize for being one of the runners-up in the Metropolitan Museum's directorship race. But for all that I've criticized Gary Tinterow on matters of museum policy (and I'm NOT going to link to those posts on this occasion), the museum's de facto curatorial leader is second to none in what he does best—organizing superb shows of 19th-century European painting.
In the past year, he has outdone himself, with back-to-back bravura outings devoted to Courbet and Turner (organized, in both cases, in concert with colleagues from two other museums). These were were brilliantly elucidated, beautifully installed revelations of the depth and breadth of these major artists' oeuvre—so perfectly conceived and executed that I felt privileged to experience them.
When I stopped in at the Met the day before yesterday, it was to revisit the Turner show before it leaves on Sept. 21. The rap against that comprehensive retrospective was that it was too big. But unlike many of the Guggenheim's shows that seem to be bloated by a misguided curatorial imperative to fill the entire length of its ramp (i.e., Bourgeois, Prince, Hadid), Gary's extravaganzas focus on figures or topics of such interest and complexity that the length is amply justified by the strength.
When I think of the shows at the Met that have most strongly engaged me, Tinterow's, time and again, rise to the top.
It's ironic that at yesterday's press conference at the Met, Philippe de Montebello, touting the importance of appointing museum directors from the curatorial ranks, gave an extended plug to Elizabeth Easton's Center for Curatorial Leadership, which, he approvingly noted, "aims to train curators in aspects of management…[to] give comfort to trustees when they continue to appoint scholars as directors." Tinterow was a member of CCL's inaugural class, and one assumes that he may continue to harbor directorial ambitions.
If he goes, the loss to the Met will be great.
[In another New York museum-director development: I was told at today's Guggenheim press event that the trustees will not decide on the appointment of that institution's new director until their Sept. 23 meeting.]