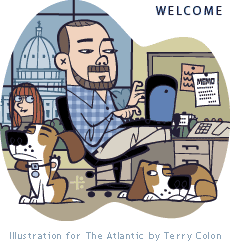 Logo for Andrew Sullivan's blog, "The Daily Dish"
Veteran cultural and political commentor Andrew Sullivan, in his blog for The Atlantic magazine, The Daily Dish, today quotes from my Art Basel post on "Snap-Judgment Art" (who knew he read me?) and mints his own coinage, "Speed-Purchasing Art" (a takeoff on "speed dating," I suppose). Sullivan is a fearsome speed-blogger, dashing off 10 posts before lunch!
Now I feel I must be fair to the fair: Unmentioned in my prior post on Art Basel was the section of that art mart which I DID enjoy, even though I arrived at the first-floor level of the cavernous convention center at the very end of my eye-numbing visit.
There I browsed, not groused, through the sprawling displays of "Art Unlimited," self-described as "a platform for works that exceed the scope of conventional art fair exhibition booths and frequently even of galleries, museums, and other traditional art exhibition venues." It was a haven for large-scale sculpture, video projections, installations, wall paintings, photographic series and performance art. Although these outsized works were for sale, the atmosphere was mercifully uncommercial—more like MASS MoCa than the mass mayhem on the art-futures trading floor upstairs.
I'll single out two works that were sights for my sore eyes:
Pierre Huyghe's L'Expédition Scintillante, Act II: Untitled (light box) was familiar from his 2002 Hugo Boss Prize exhibition at New York's Guggenheim Museum, but its ever-changing purple haze was more haunting than any of the light shows in the Whitney's Summer of Love, and the musical accompaniment, Satie's "Gymnopédie," was the perfect balm to soothe the savage critic.
The unlikely popular favorite of the show was Jeffrey Vallance's wacky-yet-profound "Popular Ties," 1979, wherein he sent a letter, along with one of his neckties, to approximately 200 presidents, monarchs and prime ministers (not to mention the Pope), from whom he requested one of their own ties. "The exchange of ties," he deadpanned in his letter, "will help to strengthen the links between our cultures."
On display were the many revealingly businesslike, whimsical, or loony letters he got back, along with the requested well-worn sartorial ambassadors of culture. Perhaps the most literal-minded response came from Austrian President Rudolf Kirchlager:
In spite of the fact that I am not convinced that the exchange of neckties will really strengthen the links between the American and the Austrian nations or our cultures, I will send you enclosed a necktie I used rather often, to be included in your collection.
Those of us who were Frazzled in Basel spent a long time lingering at this clever display, our faces transformed by lopsided grins.