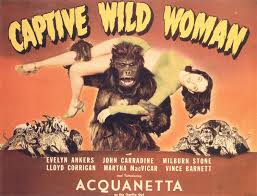 Mystery is the canny substitute for substance. The less that is known, the more implication can spin grandeur out of the mundane.
And that explains Acquanetta, the single-named Hollywood star of 1940s B-movies like Captive Wild Woman who wouldn't have had even her brief heyday without the veil of ambiguity. Certainly, she wouldn't be the namesake of Michael Gordon's recently revised opera Acquanetta, seen on Saturday in a high-impact video/theatrical package that's likely to haunt me in my dreams. Though its run in the current Prototype Festival is over, this opera is not going to leave quietly. 
This is how it began: Upon encountering Acquanetta's 2004 obituary, which makes little mention of her life beyond her final films in the 1950s, Bang-on-a-Can co-founder Gordon sensed that there was a possible sociological specimen in an actress who fell off the map – mysteriously? – and was known only to connoisseurs of trashy movies. Deborah Artman's libretto evolved into an inner dialogue among those filming Captive Wild Woman that ultimately suggests that the cost of producing screen illusions is its own kind of horror movie. People are physically re-created with invasive procedures that border on genetic re-engineering, allowing the beautiful but only marginally talented Acquanetta to play an ape evolving into human status. The irony is that the process of this evolution requires a behind-the-scenes de-evolution from a real person into a fake one.
"Please don't take my brain. I could be the Queen of Scream … I could play a real woman …" pleads one character. But nobody in this crew gets out alive except Acquanetta. In real life, that may also have been true. Though she claimed to be of American Indian heritage and from the Western United States, in fact Acquanetta was Mildred Davenport from less-than-exotic Norristown, PA.  Far from mysterious, Davenport did what many women did at that time: When her career started skidding, she married well. But when that fell apart, she did not divorce well. No marriage certificate could be produced. She married a successful used car salesman in Arizona and had another blip of stardom on his local TV commercials. Legend has it that when she discovered he had been unfaithful, she hired a cement truck to fill his car with concrete. So maybe she really was a captive wild woman.
The starting point of the opera is Gordon's music, which fuses minimalist ostinatos with rock 'n' roll riffs, and always maintaining a strong beat that, by the end, was shaking your bones. Vocal lines acted like the icing on the cake, creating long arches of lyricism, sometimes morphing into choruses, nodding occasionally to the the kitschy film world with a bit of jungle beat and war whoops that erupted from alien keys. The writing was bubbling with emotional implications and actually could stand on its own.  But character information wasn't in the vocal lines.
So where was it? Where it is in the movies so often: in the screen closeups. In this Daniel Fish production with video design by Joshua Higgason, the closeups on the video screen (the production's primary scenic element) were so tight in the opening moments that you didn't know what you were looking at. Some sort of animal? Slowly – very slowly – the camera pulled back to reveal a mascara-ed eye.  Mikaela Bennett was a strong visual and vocal presence as Acquanetta, who was seen in 1940s black-and-white against an ever-shifting background that suggested she was in a diorama. Lines and dots appeared on the screen, as if you were watching slightly deteriorated black-and-white film.
You didn't really know if there was a live singer or musician in the house. The whole thing – visual, audio – could've been canned. (Michel van der Aa's opera Blank Out, seen earlier this year at the Park Avenue Armory, had one live singer and all of the rest was virtual.) A bit later, the occasional live singer appeared on the Acquanetta stage, but most of the opera was on screen. Different characters had their moments, and near the end, with the stage full of slashed and dismembered bodies, they all seemed to be victims of a mass murder. Was this meant to represent what happened to people's souls when they worked in the Hollywood movie machine? Certainly, it's not that trite.
Well, Artman's libretto left you guessing on a lot of things – too many things.
Only near the end of the opera was its production apparatus revealed. Everybody seen on screen was there in the theater performing live, but in a separate studio walled off at one side of the stage.  When the camera was trained on Acquanetta, Bennett was sitting on a carousel with the camera pointed right at her, revolving to suggest the change of background so that what could've been a static narrative felt constantly on the move. So the opera became what it was about: The creation and power of illusion. But it wasn't just about that. Since Gordon's score wasn't as specifically wedded to the story as, say, Debussy's was to Pelleas et Melisande, the ambiguous space between music, production and narrative created more implications to be explored on subsequent hearings. And this is where mystery and implication become an art.