The New York Festival of Song is one of those distinctively urban pleasures: Its season is a series of hand-crafted programs often mixing European art song with great American popular music, drawing from New York's world-class pool of singers, pairing the right singer with the right music in exactly the right sequence.
But I had to re-acquaint myself with NYFOS in the village of Orient on the far North Fork of. Long Island – a quaint, time-warp maritime town just beyond Greenport – after missing it for many years. Sorry, but I lived in Philadelphia for so long, and though now resettled in Brooklyn, I make Philadelphia concerts a priority as I continue working for the Inquirer.
The Sunday (Aug. 27) concert was presented by Oysterponds Community Activities at Poquatuck Hall (The address is adorable: 1160 Skippers Lane), for the fifth consecutive year, and the entire package felt blessed. The day was sunny and in the high-70s (important since the hall isn't air conditioned). The late-afternoon concert ended in time for me to bicycle along the scenic causeway to Greenport before sunset – and in time for the jitney back to New York. My longtime Greenport haunt from 20 years ago, The Book Scout, was still in existence and yielded a Jennie Tourel album I hadn't heard (plus a Mabel Mercer album I may never hear because only the cover survives). I also visited Kapell Real Estate, run by the son of the legendary pianist William Kapell, and enjoyed peering at a great concert poster decorating the office.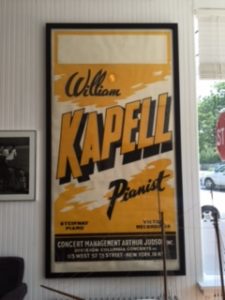 Back to the Orient concert (though not before many of us fortified ourselves with pie next door at the Four & Twenty Blackbirds cafe): The program was titled Red, White, and Blues – an open-ended concept that encompassed late 19th-century French songs by Duparc and Chabrier, with an all-American second half that mixed familiar and rare Gershwin, Arlen and Guettel. It's a pattern that others have followed: Philadelphia's Lyric Fest, for example, presents similar high-style program, often with more of a literary bent.
NYFOS plays by different rules than typical chamber music societies, which often have a community service mission. But NYFOS functions mostly as a platform for the curatorial mind of artistic director Steven Blier, which is a perfectly high calling. You can't be a self-satisfied connoisseur with him: He challenges what you think you know rather than re-affirming it. Call him a corrective for self-styled song mavens. His commentary is highly insightful, calling Duparc's songs "mini-tone poems" and his program notes are pleasantly unfiltered. His description of Stephen Sondheim, for example: "A warm, approachable man he is not. A staggeringly good songwriter he is."
The Franco-centric first half mixed typical French names like Gounod with un-typical ones, such as Kurt Weill, who made a three-year pit stop in Paris, wrote some significant music that adapted to the local color, and then escaped the Third Reich once and for all in America. An alternative version of the Madame Butterfly story, in which Butterfly is too tough to commit suicide, was explored by Andre Messager, a composer I can't get enough of, in his operetta Madame Chrysantheme. Agustin Lara, the Latin American composer of the popular "Granada," was represented by "Zumba," reflecting the Parisian vogue for Cuban music in the 1930s.
The American second half had Harold Arlen's sublime "A Sleepin' Bee" but also an unpublished song from his musical St. Louis Woman that looked forward to the tough "merry murderesses" in Broadway's current Chicago. The title: "Sleep Peaceful, Mr. Used-to-Be." Blier not only presented a song from a flop Gershwin show – "Luckiest Man in the World" from Pardon My English – but in an earlier with gutsy lyrics, fearless musical digressions and beautifully integrated jazz inflections typical of this composer in the 1930s. An even bigger coup was a glimpse of Adam Guettel's unfinished musical adaptation of The Days of Wine and Roses with the song "There Go I": A harmonically-rich but resigned, hapless study in addiction with a protagonist knowing he's headed toward trouble but is powerless to stop. At least that's how I heard it.
The singers were genuine discoveries. Soprano Mikaela Bennett sang Saint-Saens' "Le rossignol et al rose", a wordless vocalise that showed the near-effortless agility of her voice, but more significantly, a precision of vocal color that went well beyond words. Her more Broadway-ish voice on the second half borrowed Audra McDonald's legato (and it worked just fine). Sam Grosby has more of an English tenor than someone destined for Verdi, though he actually has more vocal body than his British counterparts, has a lovely a particularly lovely upper extension and a candid interpretive manner.
Baritone Robert Mellon tended to oversing the small hall, though in Sondheim's "Pretty Women", you heard the conversational range of expression that's his whenever he dials back a bit. Later this season Blier does a chamber version of Leonard Bernstein's Songfest (Nov. 7 at New York's Merkin Hall), the composer's rarely-heard 1977 masterpiece – in fact, it's the Bernstein masterpiece – to which Blier will bring more than his usual authority: He worked directly with Bernstein on his late-period, 1988 Arias and Barcarolles.