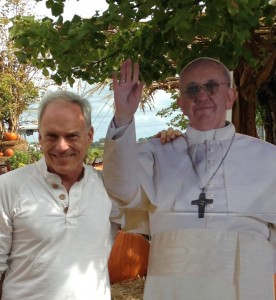 A pope without music is like a ship without a flag. It's part of the papal aura – but, unlike incense, it doesn't send your sinuses into spasms. At the Festival of Families Saturday night on Philadelphia's Benjamin Franklin Parkway, the music at a gala concert in Pope Francis's honor was quite secondary – almost a footnote that was all-too-easily ignored, even with big-personality artists such as Jackie Evancho, Andrea Bocelli and the Philadelphia Orchestra onstage.
Among the things you maybe didn't see in the televised version (including myself posing with a cardboard cutout of Francis) was Evancho singing to turned backs as listeners were peering in the opposite direction in anticipation of the Popemobile (which eventually came around the Philadelphia Museum of Art oval, but more than an hour after Evancho had finished her handful of inspirational ballads).
That was nothing compared to what happened when the Pope left the concert as the clock neared 10 p.m. Was there a firedrill? So it seemed, with a succession of well-heeled people, nuns and seminary students making their way out of the seated concert area even though there was still plenty to come. Colombian pop star Juanes was on fire, but who noticed amid those serpentine exit lines? An hour's worth of testimonials from everyday people about the sanctity of the family – one of them spoke entirely in Russian – had crowded out two of the four pieces that Bocelli had rehearsed with the orchestra. Yes, Bocelli, the million-selling recording artist.
By the time Aretha Frankin sang "Nessun dorma," maybe one-tenth of the seated audience was left, though a few seminary students were waving their arms, screaming her name and having the kind of high old time that may not be much in their future.
The Philadelphia Orchestra played the first movement of Beethoven's 5th basically as set change music for the next act. And by the time it played the final selection with fireworks, you had to remember how Jimi Hendrix played his famous version of the Star-Spangled Banner after nearly everybody had gone home. It had to be been a challenging gig for all of the musicians, sitting out there in an unexpectedly chilly evening, some without their woolies.
Of c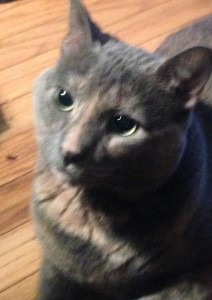 ourse, The Festival of Families, which was in charge, had its agenda. In fact, when the Pope spoke at the festival, he gave one of the more conservative speeches of his U.S. visit, basically saying that if you don't have a family, you'll never have a certain kind of God's grace. I wondered, "Do my cats count?"
And how many family testimonials do you need before they're saying basically the same thing, while
leaving famous musicians – who went to much time and trouble to be there, some performing without fees – literally out in the cold? Bad manners, to say the least. And rather unlike the history of the Vatican, which fostered great composers and artists over the centuries.
Pope Francis undeniably gave America a shot in the arm with his mostly positive, inclusive and thoughtfully spiritual messages. But was the Festival of Families yet another manifestation of the marginalization of artists? Ultimately, who has the most power over the public? Consider that Michelangelo's frescoes in the Sistine Chapel have inspired a more vivid understanding of Christian doctrine for centuries than anything said or written by Pope Julius II, who admirably commissioned them.
Perhaps nothing furthers the inner spiritual values of the church like God-inspired art. And I would even put Evancho's heartfelt rendition of "When You Wish Upon a Star" in that category. Andrea Bocelli has never sounded better – and there could've been twice as much of him. At least the World Meeting of Families issued a public apology to Juanes. But in my humble opinion, this part of the Pope's visit, one that could've been the crown jewel of his trip, missed some great opportunities.