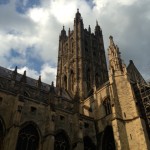 Never do I listen to Britten's Curlew River as an opera-goer. Partly because I've always had to travel considerable distances to hear the piece live, I am, in effect, a pilgrim – and one who happens not to be inclined toward pilgrimages.
More than that, Britten's 1964, 80-minute piece about a madwoman looking for her lost son is a confluence of so many things that my expectations about well-made lyrical drama are left far behind. It's an aesthetic vacation of sorts. With ritualistic deliberation and allegorical formality, Curlew River doesn't get away with lacking plot, melody and any sense of extroversion so much as it does away with any need for these things with its unfiltered revelation of core issues in human existence – one reason why the imported production starring Ian Bostridge felt perfect for Lincoln Center's White Light Festival. It opened on Thursday Oct. 30 for a three-night run, and not in any theater, but at St. John  the Divine.
Considering that Upper West Side cathedral is about the size of Rhode Island, the performance was sensibly held in what's called the Synod House at 110th Street and Amsterdam, a highly-atmospheric neo-Gothic chapel that's now outfitted with a miniature airstrip of a stage around which the audience (numbering less than 500) is seated. A loose-gravel walkway for the processionals gave the singers' footsteps an added percussion to the sparer-than-spare orchestra (in this case the excellent Britten Sinfonia under Martin Fitzpatrick), dominated by chamber organ, percussion, harp and horn.
Musically, one could say that it's Ceremony of Carols meets the Serenade for Tenor Horn and Strings – put to the service of a piece whose framework is English medieval miracle play but whose manner comes from Japanese Noh theater – with an all-male cast. The setting is a ferry boat across the river where, on the opposite bank, an abused child had mysteriously died a year before, and whose grave is considered sacred ground. Most ferry passengers don't know or care, though the last minute boarding of a shambling, raving madwoman who sings in a key alien to everyone else, brings an added charge and purpose to the journey. The distressed boy was her kidnapped son. By the end, she hears his voice, and amid all of her grief, is restored to a tentative sanity.
Why does Curlew River inhabit one's psyche so completely? This production was experienced at such close proximity that the listeners were almost part of the performance. I swear that singers often broke the fourth wall and were looking me right in the face. The sense of ritual, if anything, heightened the story's pathos because there's no kidding yourself about the tragic direction that the piece is taking. The lost boy, who has been essentially beaten to death, could be any one of us, figuratively speaking, in the wake of family deaths, professional disappointments and incidents of betrayal. You don't know the kid; you've been him. You've also been his mother, when facing the intractability of loss.
In this production directed and designed by Netia Jones, the set had a ship sail at one end of the performing area and lots of computerized imagery (birds, rippling water) projected onto the stage floor. At one point, Bostridge (who was the madwoman) was kneeling on the stage amid stark shafts of light in the shape of a cross. Soon, though, that turned into a pervasive gray, oatmeal-ish texture that covered the entire floor – an image that was even more devastating, suggesting the boundless emotional sea in which the madwoman was adrift. Though some productions have given the madwoman some pretense of femininity, this low-artifice approach had Bostridge dressed in a manner that was equal parts samurai and monk. He was also clothed in jet black – a start contrast to the dead-of-winter gray that was the rest of the production.
One need not use much imagination to know that the Curlew River is the River Styx, that the cold, mocking ferryman is Charon and that all of the passengers with the possible exception of the madwoman are, in fact, dead. That may be why the ferryman is so unsympathetic to her: However devastated, she's alive, isn't she? The boy, who appears at the end, is more than a voice. He physically appears, still with all of his bruises and wounds from life.
The singing was consistently excellent – not that one noticed all that much because voice, movement and stage imagery were so much of a piece, though Mark Stone was a particularly fine Ferryman. In light of Bostridge's eccentric recital manner in recent years, casting him as any sort of mad person might seem like an invitation for overkill. Not so. The voice was unusually rich and his manner was a model of power projected with restraint. He barely moved at all for much of the performance; everything came from within. By the end, and during his bows, he looked downright traumatized.
Overall, this is the most penetrating encounter I've had with Curlew River, the Britten theater piece that reached the furthest by fusing disparate elements as if they always belonged together, even though their points of contact were made from distance centuries and hemispheres. Though Britten wasn't one to explode forms in the manner of his avant-garde contemporaries, he came close to doing so here – even more daringly within church walls. What makes the piece even more fascinating is that there's nothing like it, not in Britten's output or in anybody else's. Curlew River more than  portrays existential aloneness, but illustrates it with its existence.