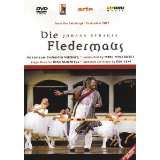 It promised to be a doozy.
The provocative director of the Salzburg Festival – who died at age 70 on March 8 – was staring down his Austrian enemies for one last round. Politicians and critics had been lining up against him over his 11 years heading the festival that Herbert von Karajan so conservatively built. And by the summer of 2001 when the government was winging rightward, some were saying, point blank, that it was time to get rid of this Belgian and bring in an Austrian who knows his stuff.
Two operas scheduled for that day were Ariadne auf Naxos in a production whose prologue – in which backstage singers and composers are at the mercy of philistines upending the premiere of their Ariadne opera – was staged amid a replica of the theater lobby in which the production was performed, in effect holding a mirror up to Austria and asking, "So how much of this absurd comedy applies to you? Maybe all of it?"
Most infamous, though, was the Hans Neuenfels production of Die Fledermaus, normally an enshrinement of comfortable,complaisant middle-class Austria but here had Prince Orlofsky played by a performance artist who could barely sing (and was a man of color, no less). A sermon about Arnold Schoenberg was thrust into the middle of Act II. Moments of perverse subtext had Adele's "Laughing Song" sung with a blood-spattered newspaper.
The rumor around town was that the elegant, cherubic Mortier was going to make Hitchcock-like cameo appearances in both productions – in drag. As if Salzburg isn't surreal enough – with its hollowed-out mountains and Valery Gergiev cheerfully giving you street directions.
"So do you think that's going to happen?" I asked the press officer that
morning.
"Not if I can help it," she murmured through clenched teeth.
It didn't, and didn't need to because it was already such a Mortier kind of day. The Fledermaus production was crazy. But also typical of Mortier, the Ariadne production, jointly directed by Jossi Wieler and Sergio Morabito, was a revelation that I will never forget. After the aforementioned prologue, Act II – normally the Ariadne opera proper – was staged and sung as the aftermath of its own disastrous performances.
The singer who portrayed Ariadne sat in her street clothes at a table, a bottle of wine in front of her, singing one lament after another, the echoes being possibly-alcoholic-induced aural hallucinations. Zerbinetta popped in, looking like Texas trailer trash, to cheer her up. In effect, the characters of the prologue were, for a change, the same as in the Act II opera.
In the final scene – where Ariadne normally has her long-earned redemption with the arrival of Theseus, rescuing her from her emotional devastation –  she instead exited the stage alone, Theseus having gone off with the infinitely more winning Zerbinetta. It was an alternative interpretation that brilliantly made as much sense as what
the composer and librettist intended.
Salzburg was Mortier's best period. Though I first met him when he headed the La Monnaie in Brussels and brought and enchanting production of Mozart's La finta giardiniera to the Brooklyn Academy, Salzburg was where his innovations were writ largest, and during a period of economic prosperity in Europe and America – this was the era of Alberto Vilar – that could support him in more style than he was accustomed.
Any major city has wildly experimental opera productions if you look hard enough. Even Philadelphia will have a wigged-out Falstaff in the Philly Fringe or Fidelio staged in a genuine prison. Mortier brought such endeavors to the largest international platform with the belief that the Karajan crowd was dying off. And he was right. During a fairly traditional Georg Solti-conducted Die Frau ohne Schattan in 1992, I noticed a full nursing staff in the lobby on amber alert. Of course, Mortier was also a provocateur – as in his Fledermaus. But who else would find a place for Viennese operetta on the lunatic fringe?
Mortier proudly stated during the 1999 festival that he spent more money on Luciano Berio's La Cronaca del Luogo than any single production in his nine-year tenure with the festival. The production was one of the electronic-music wonders of the world, with musicians stationed in the different alcoves of the Felsenreitshule with their sound made to travel spatially through state-of-the-art electronic manipulation. Unfortunately, its content was obscure social-realist agony with Hildegard Behrens as a Mother Courage-type character, and piles of clothing migrating from one side of the stage to another. It was sort of a confused, elephant-gives-birth-to-a-mouse experience.
But let's not forget that soon after, Mortier unveiled Kaija Saariaho's L'amour de Loin, a piece for the ages, and that the 1992 Peter Sellars production of Messiaen's Saint Francois d'Assisi gave the opera a new life, partly with Esa-Pekka Salonen as a partner in crime. With the composer recently deceased, conductor Salonen decided to interpret the metronome markings his own way – the result being that this five-hour contemplative piece that was much more cogent than anyone previously thought.
Mortier's momentary hiring by the New York City Opera is generally thought of as the beginning of that company's end. Yet I have to sympathize with the drive to bring Mortier to New York at any cost, in what turned out to be a cost that was simply too much.
To have Mortier invade New York's then-conservative opera world've been "thrilling," that word belonging to George Steel who was hired in his place and has since gone down with the ship. Part of the problem was the abrupt changes in our 21st century. 9/11 had happened. Alberto Vilar lived in financial disgrace. Others  like him had disappeared. And Mortier was anything but a minimalist. Something worth saying was worth saying on a scale that would be heard globally. I hope he's having a well-earned rest, up there with Ella Fitzgerald, who was his singer of choice after a long night at the opera.