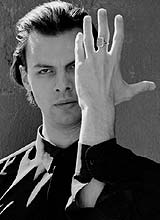 The very idea raises an immediate "uh-oh."
Mozart's music feels like such a complete sphere unto itself that  so-called re-loads, mashups and crossover re-arrangements have been minimal and often embarrassing. 
Just in the past year, though, surprisingly interventionist performances have been coming my way from extremely high places: When the slow movement of Mozart's Piano Concerto No. 25 arrived during a recent radio broadcast from Carnegie Hall, my ears immediately went into what-will-happen-next mode as Jeremy Denk began playing all sorts of ornaments, willingly abetted by Michael Tilson Thomas' give-and-take tempos needed to make it work.
Of course the performance felt fresh and original; how could it not? But it also felt right. This is not to suggest that Denk followed some secret formula that brought the piece to a destiny it was always meant for. No, this simply worked in the moment, which is the definition of a performance, and with qualities you don't realize you've been without until they're unfolding before your very ears.
Normally, Mozart doesn't need a great deal of help from performers to succeed on a basic level; the main challenge can be to not get in the way. This performance  was different, suggesting a deeper though speculative journey into Mozart's psyche, rendered with greater-than-typical levels of extrapolation. So it's success is by no means to be taken for granted.
In the new DVD of The Magic Flute with the Berlin Philharmonic under Simon Rattle, the first scene has a huge cadenza at the end of trio by The Three Ladies suggests these unusually aggressive helpmaidens for The Queen of the Night have a great deal more to say than what Mozart wrote down for them. Jaws may drop. Where did those notes come from?.
Even more interventionist is the forthcoming Sony Classical recording of The Marriage of Figaro from Perm Russia. Already out in Europe and scheduled for a March release in the U.S., the recording claims (in its promotional materials) to be the most uncompromising one ever made in the field of opera, coming from the fact that Teodor Currentzis demands and gets unlimited rehearsal time. With busy soloists such as Simone  Kermes (the Countess) and Christopher Maltman in the forthcoming Cosi fan tutte, that can't be the case from top to bottom. Busy international soloists aren't going to offer unlimited time in Perm.
Nonetheless, cadenzas and ornaments are everywhere and sung as if they're the most natural thing in the world. With some ceaselessly inventive harpsichord playing, the whole thing (for all its rehearsal) feels much more freewheeling, and breezy then  those ultra-meticulous Karl Bohm recordings that now seem downright obsolete next to this one.
But didn't Mozart supposedly have too many notes as it is? Does the music need more?
What we're seeing here is a shift from a preservation to restoration. Musicologists always knew that the music printed on the page was hardly the totality of what was played, especially in baroque opera. The use of ornaments, improvised and otherwise, has long been known about in Mozart.
The question is how might they go (aside from the few ornaments that survive in written form) and if anybody had the guts to actually employ them. But such chances must be taken if Mozart operas are to be more than beautiful, somewhat remote pieces and living artworks who have shaped our lives as much if not more than current composers.
Mozart is no longer a musical ancestor. He's family, and can be treated with the kind of empathy that perhaps wasn't possible when Mozart piano concertos were a specialist's repertoire that didn't always go so well when played by mainstream artists such as Artur Rubinstein. In our own time, James Levine's Mozart has has had a dramatic weight loss over the years. His Metropolitan Opera comeback in last fall's Cosi fan tutte was swifter, lighter and more articulate than ever before.
In this `Mozart is Us' generation, how far is too far in these speculative sojourns into Mozart's head? It's a process that's easily corrupted by the performer's ego. In Rattle's Magic Flute, the aforementioned Three Ladies cadenza is set up by a harmonic change in the music.Usually, ornaments fill out the framework. This changes the framework. 
No harm done, though in this fully-staged performance captured in Baden-Baden, the cadenza feels more like an aberration amid Robert Carsen's visually kinetic  production than a radio broadcast I heard of the same performers from Berlin, and one that more projects almost improvisational vaudevillian quality that well suits the opera.
What makes the Figaro from Perm a potentially more-influential triumph is the overall performance level: Conductor Currentizis (whom I've heard in more conventional, less-rehearsed circumstances with similarly distinctive results) uses period instruments in a way that was difficult to imagine in the 1980s when the first recordings of this kind were being made by the likes of Arnold Ostman.
In the old days, period performances felt restrictive, posing a challenge to channel the range of expression we heard in modern-instrument performances into the smaller, more miniature sound ecosystem. Currentzis has gone further than anybody in realizing what period instruments can do - with a quicksilver explosiveness from one extreme to another and greater harmonic transparency that reveals how seldom-heard inner voices contribute to the whole.
Past greenhouse performance circumstances haven't always yielded utopian results. Krystian Zimerman's tour and recording of Chopin piano concertos showed that the orchestral aspects aren't nearly as rudimentary as they so often seem. This effect was arrived at, as in Perm, through unlimited rehearsal. Why, then, did Herbert von Karajan's studio recordings with interpretations honed over years with the Berlin Philharmonic, feel refined into blandness?
Is it possible that the very proficiency of modern instruments becomes a barrier, taking the music to a level of exterior beauty with an ease that makes you ask fewer (if any) questions as to what other possibilities might lie ahead?Might that be why modern instrument performances sound awfully similar compared to the interpretive diversity that's increasingly heard with period instruments? Whatever these Perm recordings lead to, they're bound to open up Mozartean possibilities in ways that hasn't happened for centuries.